'Faasley' is about not giving up on your dreams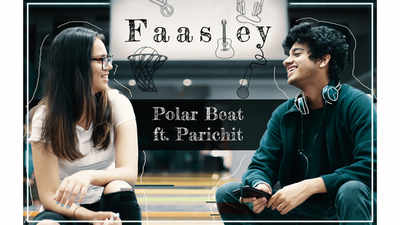 By Diganta Debnath
'
Faasley
' is an
electronic dance music
(EDM) track that has been shot, edited and produced on the campus of Bennett University. And it's a dream come true for me. I am Diganta Debnath, first-year student of BA Journalism Mass Communication (BJMC),
Bennett University
and I am the producer and maker of
Faasley
. In the world of
EDM
, I am known as
Polar Beat
.
The reason I am writing this piece is because both as a BJMC student and as an individual I want to share my journey of producing this track with you in the hope that I can inspire you to follow your own dreams.
Faasley, the four-minute music video, is the life story of people like you and me who are trying to follow their passion and dreams. Let's face it, our society idealizes the world of doctors, engineers and lawyers and this makes it especially harder to try something off the beaten track. With 'Faasley' I have tried to show that struggle we face in making our dreams come true.
A melody in the hostel room

Faasley was first conceived as a melody in my Bennett hostel room four months ago. When I made the melody and the chord progression back in my hostel room, I knew instantly what the theme had to be. It took a special place in my heart. I wanted my project to appeal to young people who like me are in a perplexing stage of life. For musical inspirations I look up to a lot of artists, but for this one I drew inspiration from within.
I had the theme, I had the basics and the structure of the track, I just had to finish it. It took exactly two weeks to complete the track, but something was still missing. I realized then that the track had to be a vocal track; it had to have lyrics for the emotions I was trying to convey to take the shape of words.
Rejections after rejections until…

So, I called up a few vocal artists for collaboration but got rejected by all of them. No one was willing to work with a new artist who only had some hundred views and streams on his Sound Cloud. No one showed faith except one person: Parichit Roy. I was looking for a person who would fall in love with the theme first and then the music. Parichit, an artist from Mumbai, was just that person.
The partnership with Parichit Roy

Parichit Roy and I were always on the same page. We both understood what we wanted to convey. He wrote down the lyrics, recorded it and sent them over to me. I did the rest and the track was ready. I tried to approach labels, and, in the process, I learned that it doesn't work that way. Then came the moment when I decided to make a music video on my own.
Thus, began the journey of Polar Beat at Bennett

I was into video-making long before I was into music. In fact, I wanted to become a footballer at first but eventually took the 'safer' option and decided to continue with academics. But things changed once I was at Bennett. The video-making course at Bennett gave me access to the state -of-the-art film-making equipment and studio. Though I have been producing music since class eleven, it was only after coming to college I understood that I needed to focus on one single thing for better output and I chose electronic dance music production. And that's when I decided my artist name, 'Polar Beat' and started my journey. My Bennett peers would share the tracks I would produce and upload online.
Faasley becomes a reality, finally

My fourth official upload 'Faasley' still needed a video. So, I made a team consisting of my first-year peers. Dhruv Dhankar came on board as cinematographer, Siddhartha Dayani as lead male actor) and Esha Yadav as lead female actor. This is one the biggest advantages of being a hostler, your peers become your family.
I had the concept, I had the team and the track, we just had to start shooting. I directed the whole project within four days and we were done with the shoot. And that's how Faasley was born. I edited the video and uploaded it on YouTube and Sound Cloud. It was very well received by viewers.
I want to thank Bennett's Times School of Media (TSM) for giving me this wonderful opportunity to showcase my talent.
I just want to make people happy with my tracks and produce music every day.