Tips for photographers going to shoot the Barsana Holi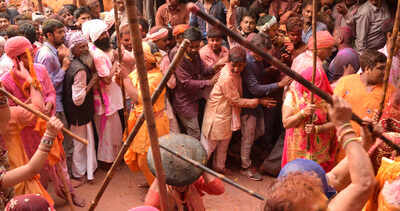 People of Barsana and Nandgaon playing Lat mar Holi
It's every photographer's dream to to shoot the Holi festival celebration at Barsana and Nandgaon villages.

The event takes place before the actual Holi and symbolizes Lord Krishna coming to Barsana village to invite Radha for Holi. The men from Nandgoan village go to Barsana village and the women of Barsana village, symbolizing the Gopiyas, beat them up, playing the famous Lat Mar Holi.

The men come guarded and some of them also dress up as women to dance. Then the next day all the people go to Nandgoan and play Holi there.

People in general and photographers in particular fromall parts of the world come to experience and shoot the event. As the task is difficult, here are some tips to make the shoot easier for you.

1. Go mentally prepared
You need to be mentally prepared that it's a tough shooting situation and people will attack you and your camera with colours and water. Since it is part of the occasion, you cannot stop them.

2. Use food wrap and rain cover to protect the camera
Don't waste money on an expensive camera water-resistant bags. Rather use two layers of protection, first wrap your camera with food cling wrap leaving the lens open. For the second layer of protection use a rain cover for the camera to protect it from water.

Changing the settings and zooming lens will be a bit difficult but you will get used to it.

3. Choose your spots beforehand
Go well in time to avoid the crowd entering and choose your spot beforehand. In Barsana, you will have to walk through the lanes and try getting to some house roof for shooting the lat mar holi safely.

In Nandgaon, there is a terrace, where you should take a good spot according to the lighting in advance for the best results.

4. Try to fit into the crowd as much you can
Try and fit into the crowd as much as you can because the more you act like the outsider the more attention you grab, basically attracting more colours. Once you fit in and feel the vibes, you can shoot better. If you are girl, try your best not to bein the spotlight as the revellers are going to target you with colours.

5. Use wide angle in Barsana and zoom in Nandgaon
It is very difficult changing lenses there because of the difficult shooting environment.
Therefore, the reason why I am suggesting to use wide angle in Barsana and zoom in Nandgoan is because in Barsana you are directly facing the people playing Holi which makes it difficult to zoom in and out.
In Nandgaon you can get on to the terrace of the temple and avoid direct contact with colors and water, giving you a chance to easily rotate your lens.

6. Take help from a local guide
Don't just depend on GPS. You need a local resident who can guide you in the villages.