Bennett University's exciting boxing trials spark excitement!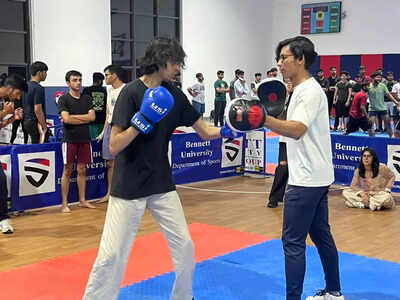 BY Chirag Kalra

All eyes are focused on the boxing team's tryouts on the second day of sports trials being held by the Bennett University's Sports Committee since it is the first time a combat sport like boxing is being offered to the students.

The trial process required the applicants to go through and pass three stages, including a basic fitness test, pad work to gauge how hard they punch, and sparring, which is a mock combat match to give them a taste of what they'll be practising for!

"The boxing team's first important job is to put up a core team that will represent the university in both intra- and extra-campus competitions. Secondly, we don't limit the combat training to only the members of the core team; rather, we are pleased to train other students who merely want to learn about the sport, so the training is accessible to everyone. We encourage everyone who is interested to join us in the evenings for healthy practice sessions as five days a week, from Monday to Friday, have been scheduled for the training session." Farhan Bhatti, vice captain of the boxing team, said.

Students of all genders participated in the trials, demonstrating the university's dedication to gender equality in athletics. Particularly strong impressions have been made by female boxers, who have demonstrated their skills and endurance.

"It's the zeal and the abundance of requests for us to start coaching the sport that we have been getting from students in all batches, especially freshmen. We had been teaching boxing to students unofficially before, but as more students enrolled in the institution and expressed a strong desire to participate, we had to start teaching it professionally. As a result, we now have a coach and a large place for them to practise and learn," Raunak Shukla, captain of the boxing team, said.

The Bennett University's boxing team trials were not only a chance for students to explore their love of boxing, but also a sign of the university's commitment to promoting a culture of quality and sportsmanship. Students excitedly anticipate the announcement of the new team members who will represent the university in the competitive world of college boxing as the trials continue.