Bennett's students get YourDOST to beat mental stress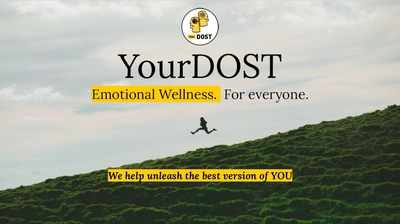 By Shobhit Gupta
The
COVID-19
pandemic and the subsequent lockdown brought with it unprecedented emotional challenges for almost everyone, especially students. Mental health problems can affect many areas of students' lives from reducing their quality of life, academic achievement, physical health, or satisfaction with the college experience, to negatively impacting relationships with friends and family members.
With an eye on this unfolding crisis,
Bennett University
collaborated with
YourDOST
, an online counselling community in November 2020 to extend the emotional wellness consultation to the students.
Students can reach out for help by simply logging onto the YourDOST platform. The platform keeps all the information confidential. The experts counsel students on how to cope with their stress and mental health issues.
YourDOST.com is a platform that enables one to connect with experts to discuss issues related to personal, professional and academic life.
Many college students report that mental health difficulties interfere with their studies. According to American College Health Association survey, over 55% of college students have experienced a rise in their stress levels during the lockdown. Additionally, feelings of anxiety, anger and loneliness have also increased immensely with a net increase of 41%, 38% and 29%, respectively.
Somya Goel, Vice President, Publicity Department, Bennett University, shares her experience. "Basic family issues and study pressure which never affected me so much before started putting me on edge," she says. And when she was introduced to YourDOST at Bennett University, she realised that impacts of lockdown had started creeping into her routine. Her counselling sessions slowly started helping her untie the knots.
After attending the counselling sessions, she says, "I remind myself of all the good days I had in order to feel better. My dedication to move towards positivity has truly helped me shine brighter."
Anmol Singh,
BJMC
second year student says, "The sessions are interactive. The counsellors are very sweet and made me feel comfortable. It was easy to talk to them. I would recommend everyone to try them once. It really doesn't matter what you talk about. Like the title says it is like a friend."
The community believes that the major fear is not about opening up, the fear is about 'log kya kahenge' (what will people think) and when people can talk to a counsellor from the comfort of their home, no one will get to know and hence, makes it easier.
The report has been written by Shobhit Gupta, a student of BA (Journalism and Mass Communication) of Bennett University.)
Join exciting programmes offered by Bennett University