Bhavya is Student Council President for 2019-20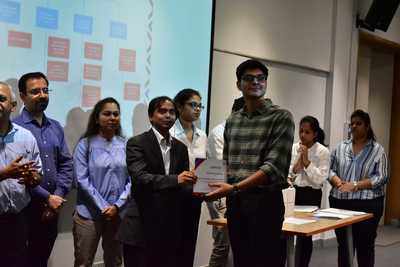 By Tejaswini Mittal

Bennett University's first ever Student Council Felicitation Ceremony was held on Thursday, August 1. Bhavya Patunjal replaced Prateek Soni as the new council president.
Patunjal's new team includes Treasurers Sanchit Khandelwal and Aditya Raj Jain and Vice Presidents: Major Events: Abhishek Dubey, Publicity: Triya Gulati, Governance: Mohd. Haaris Beg, Outreach: Aritra Sen.
A host of awards were also given out by BU President Sachin Jain. These were, Best club: Ansh (Drama club), Best club secretary: Rishi Garg (Ansh), Best club core team: Cerebrum (Literary club) and Best Student Council committee: Transport committee.
"I am glad to see the enthusiasm and the effort put in by our students every year," Jain said. "It's good to know the future of the university is in good hands, keep up the good work."
The hall was filled with excitement and curiosity before the ceremony because as none of the candidates had any information about what post they would get.
The hosts, Ayera Chowdhary and Siddhartha Dayani kicked off the ceremony by congratulating the out-going council on its achievements and contribution to the university.
The outgoing members began by giving the audience an overview of the things they did during their term, after which Gulati gave a speech on behalf of former Council President Prateek Soni, who was unable to attend the event.
Former council members Vasuman Agarwal and Sarthak Biyani then proceeded to announce the names of the new council.
At the end of the ceremony, the Dean of Student Affairs, Milind Padalkar also congratulated the students on their achievements and lauded the faculty for their promptness.