BU celebrates Janmashtami with melodies and devotion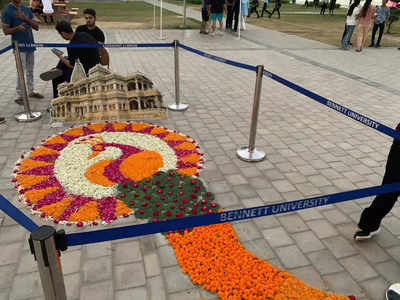 The beautiful rangoli decorated for the festival
By Medhansh Das

Bennett University was adorned with fervor and devotion as students came together to celebrate Janmashtami, the birth of Lord Krishna, in a spectacular evening event on the university campus. The eve of
Janmashtami
was celebrated with a musical evening filled with bhajans and songs dedicated to
lord Krishna
performed by the students. A beautiful
rangoli
of a peacock was created for the occasion by the students which attracted a lot of passersby, especially the newly admitted freshers of the university, with Janmashtami being the first festival that they will celebrate in the campus.
Students came in great numbers adorned in traditional ethnic attire. The evening began with melodious songs and bhajans which even the audience joined in and sang. Despite there being a lot of technical difficulties, the power of devotion reigned supreme. Each song was followed by chants of "Hare Krishna" and "Radhe Radhe".
"Its been a while since I have celebrated Janmashtami, the serene and yet enthusiatic atmosphere of the evening definitely made me excited about the festival again" said Khushi, a first year B. Tech student.
The musical performance was succeeded by an equally enjoyable round of
shayaris
and a quick quiz round about the life of Lord Krishna.
After this several dance performances took place which were mainly centred around the gospels of
Krishna
and
Radha
. The evening served as a beautiful reminder of the rich cultural heritage and spiritual values that continue to thrive among the youth in
India
. For this special occasion, the boys' common room is open for the night for both girls and boys to offer their prayers and the student council is even offering special food made for students fasting on Janmashtami.
The writer is a Semester III student of the BAJMC programme.