Campus buzzes with anticipation as aspiring student leaders undergo interviews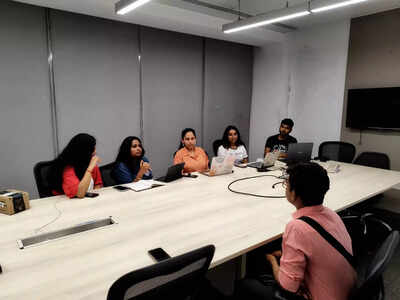 By Pakhi Dave

Clubs have always played a pivotal role in shaping the vibrant campus life of Bennett University. These student-run organizations are not just about extracurricular activities; they are platforms that empower students to explore and hone their diverse talents. With a whopping 25 clubs on campus, including Pulse, Advaita, Verse, Rivaaz, and Ansh, Bennett University proudly provides students with avenues to excel in their chosen areas of interest.

The process to select the next generation of club leaders is now in full swing, with members of the Student Council at the helm. Led by Club Relations Head Diksha Diwaker, the council is entrusted with the task of identifying students who will take these clubs to new heights.

Each interview, a critical component of this selection process, lasts between 10 to 15 minutes. It serves as an opportunity for candidates to articulate their vision and plans for the respective clubs they wish to lead.

What's notable about this process is its inclusivity. All students who aspired to become club leaders were encouraged to apply. A comprehensive application form was released, allowing students to express their interests and aspirations. Additionally, core members were given the opportunity to apply for positions as secretaries or joint secretaries.

To maintain order and ensure a seamless interview process, a waiting hall adjacent to the interview room was thoughtfully arranged. It was a scene of palpable excitement, as students waited their turn to share their passion and ideas.

Niharika Lal, the Sub-Head of Club Relations, expressed the collective enthusiasm, stating, "Even we are excited to meet and interview the new leaders of Bennett Clubs. We wish them the best of luck in leading the various clubs of the University and helping the council in supporting our students."

As the interviews conclude, Bennett University eagerly awaits the results that will soon be announced. This selection process embodies the spirit of inclusivity, enthusiasm, and dedication that defines Bennett University's commitment to nurturing student talents and passions.