Day 3 of LibQuest: Learning & fun come together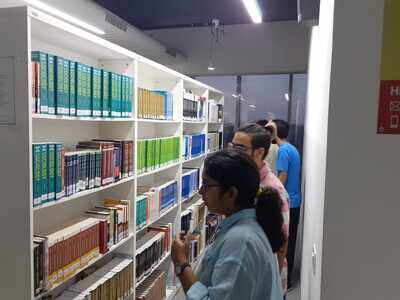 By Anushka Sharma

Third-Day of the LibQuest 2019 kicked off with a lot of enthusiasm from both the students and faculty at Bennett University. LibQuest- a concept curated and brought to life by Bennett's Head Librarian, Dr Sanjay Kataria, is a combination of two words: 'Library' which symbolises as the centre for knowledge and 'Quest' for search. The theme of the event, as Mr Kataria said, was to 'Content; Connect; Collaborate' i.e. connect the content to everyone in Bennett and thus lead to a collaborative system of education and learning.

The first event of the day was a workshop on 'Access to Legal Information' for the School of Law and Research Scholars at BU. The workshop was guided by Dr Khare from the Supreme Court Judges' Library of India.

The event also saw several research database experts from Legal research sites as SCC, Manupatra and Lexis Advance who gave away the methodology of their software to make data easy to access for research. The guest lecturers also enlightened the audience on how to quote an overruled judgement emphasizing on the need to research for better understanding of procedural judgements.

After the lecture, quiz and games were hosted by the learning centre for recreation for the students from The School Of Law. An online quiz was conducted in which Hiranya C. Bhandarkar ranked first followed by Aditti Bhardwaj at the second place and R Sivija at the third place, both from 2nd year.

Next followed the Pictionary event, where the participants were shown clues to the books which they had to decode to find the book they were for. It was a team game where Hiranya C. Bhandarkar and her partner Jagadiswari Panduri both from 1st year were the winners of the event whole Aditti Bhardwaj and Abhyadaya Gupta, students from 2nd year ranked as runner-ups.

Games in the evening were also organised for the School of Engineering and Applied Sciences where 1st, 2nd and 3rd places in the quiz were bagged by Divyanshu Singh (1sy year-CSE), Kartikay Bansal (2nd year-CSE) and Anika Kapoor (1st year-CSE) respectively. Next event for students was Pictionary, similar to the earlier one for law students where teams participated to compete against each other. Team of Naman Bansal and Akshita Mehta from CSE-3rd year bagged the first place while the team of Anushka Garg, Dhwani Patel and Priyanshi Ashok Kedia, all from 1st year-CSE bagged the first runner-up place and team of Ritvik Gupta, Ahnaf Rehan Shah and Prathan Gupta from CSE-1st year bagged the second runner-up place.

The day three of LibQuest was concluded by one fun activity conducted called the Treasure Hunt. The overall event received a great response from the students and amalgamated the essence of learning while having fun for them.