Is WhatsApp influencing the first-time rural voter?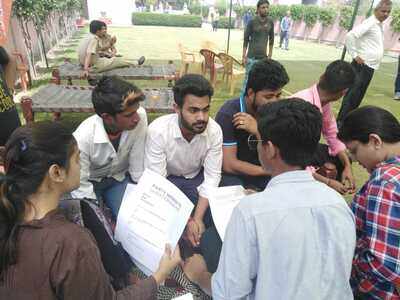 By Tanishq Chawla

Eight out of 10 first-time rural voters not only believe the political content received through WhatsApp messages but also forward it to individuals and groups without verifying the source of information. This insight was an outcome of 60 interviews of first-time rural voters taken by the students of Times School Media during the campaign trail of Union Minister for Tourism and Culture, Dr Mahesh Sharma.

"I get WhatsApp videos and messages of Modi ji. In fact, I just heard the speech he gave in Greater Noida some days back through a WhatsApp video. My friends and I get influenced by those messages. Here, we don't care about who is contesting, the only thing that matters to us is Modi, we will vote for BJP solely because of him," says Shekhar Singh, a first-time voter from Tirthali village in Jewar, UP.

While not everyone has a smart phone as Singh has, but when he gets a video or a text message on BJP, he shows it to five other friends of his and forwards it to as many on his list. "We watch videos together and laugh at some of the videos parodying other political parties," said Rehman,21 of Jewar.

However, Rinku Singh, 18, resident of Tirthali village, said that he would vote the party his father decides to vote. "My family decides who to vote based on the opinion of the head of the family or the village elders."

When the rural youth were asked if they tried to verify the source of the political content, they said, no. On the contrary the urban users are sceptical of WhatsApp forwarded messages. According to an Indian Express report almost half of the people out of 3,000 urban Indians say that they never believe the information they receive on WhatsApp. Whereas, only 13 per cent said they read forwarded information and further forward it and half of them only read the information while 17 per cent ignore it.

"I usually depend on newspapers or television for political news but in case I get any news on WhatsApp I usually google it before forwarding it to my friends and family" says Sahiba Bawa, 22- year-old Law student.

With the WhatsApp's latest 'reverse image search' feature which is an attempt at curbing misinformation on the app ahead of the general elections 2019 in India has been able to limit the viral content and educate users on how to identify fake news. Moreover WhatsApp, including other social media firms, will now have to process any request from the Election Commission to take down content within three hours during the 48-hour period before voting days.