Placement Committee Unveils Innovative Prep Board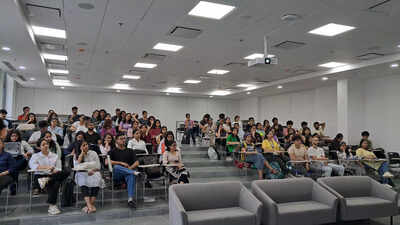 Only ten out of more than a hundred students will become a part of the committee. (Photo Credits: Rebecca)
By Rishi Bhushan

In the town hall held on Wednesday, the Placement Committee of the Times School of Media (TSOM) convened to announce the establishment of a Prep Board which will operate under the Junior and the Senior Board.

The Prep Board, comprising 10 members from semester I, will be elected through a rigorous selection process and will work closely with the senior boards of the Placement Committee to facilitate skill-building, mentorship and job placement opportunities for their fellow seniors and eventually themselves. "Even though the semester I students won't be getting placed till semester V, it is a great learning curve for all of you and understand how an organisation operate," said Shruti Jain, head of the Placement Committee, while addressing the semester I students. In attendance were also the students' heads of the committee along with the senior and the junior boards.

The Placement Committee aims to provide industry-ready students of the TSOM with one hundred per cent placement in top-tier companies. The current board, which also happens to be the inaugural board of the committee, has been actively working to achieve this target since the placement drive starts in October.

Shruti Jain also announced the schedule for an upcoming masterclass with the Chief Executive Officer (CEO) of Compass India Support Services, Joel Anthony, who will talk about shaping vision and growth in startups with the students of TSOM.

The Placement Committee, in addition to the primary aim of placing the students in companies, will also provide them with masterclasses with media professionals, mentorship programs and networking events which will equip the students with skills and knowledge to excel in this dynamic field.