Stand-up Against Street Harassment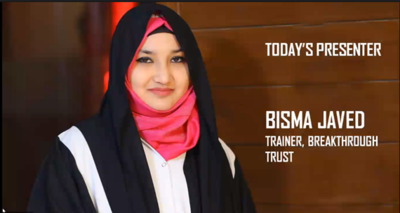 The 5D formula to standup against street harassment shared by Ms. Bisma Javed
Being cat-called, stared at, or followed while walking down the street, is a horror especially for women. Tales of street harassment have doubled in the past few years and continue to rise. What to do in such a situation? How to deal with such a situation smartly? How to save someone from such a situation?
Every problem has a solution, and for dealing with this menace of society, a strong yet smart solution is needed. The
Legal Aid Committee
of the
Times School of Law
,
Bennett University
organized a session on - StandUp Against Street Harassment Training with help of
Breakthrough Trust
in partnership with
Hollaback Foundation
and L'oreal Paris; who have started a campaign on street harassment intervention.
The speaker for the session was
Bisma Javed
, a gender sensitive trainer in Breakthrough Trust. She has done her Masters in Gender Studies from Jamia Millia Islamia University and has vast knowledge on the topic. She is actively involved in training students about how to safely intervene if anyone witnesses street harassment and protect oneself in such a situation. She speaks on gender sensitive topics through short columns and digital art page on social media platforms. She was conferred with
Rising Women Award
in 2021 on International Women's Day.
The session was divided into two parts: how to save someone from street harassment and how to deal with street harassment when it comes to yourself. The main aim of the session was to build awareness and intervention strategy among students and ultimately lead to a safe space for women and girls.
"According to a survey, majority women feel safer and relieved when someone else intervenes to save them from harassment. This can happen with anyone. Hence, we have figured out the 5D formula to cater to this situation", Javed said.
"The first D is Distract; this requires you to take an indirect approach to de-escalate the situation. The second D is Delegate, insisting to get help from the nearest authority possible if you feel that your safety might get compromised. Document is the third D, which can be very helpful in the latter if evidence of the incident is required. But that does not mean that you will only document and not try to help the person," Javed said, while explaining the 5Ds to standup against Street harassment.
"The fourth D is Delay; once the incident is over, check in with the person who was harassed. This gesture of yours will not only help them feel validated but also give you a sense of relief that you could save someone. And lastly Direct, the last D of the 5Ds approach. This is an important D, as it first demands you to assess your safety and then speak up about the harassment. You should be firm and clear with your speech. But I would advise you to keep this as your last resort," she said.
Javed emphasized on the need of being a good bystander by just keeping these three points in mind; noticing the scenario and assessing the safety, notice what keeps you from acting when you see harassment and lastly, decide which of the 5Ds work best for you.
On dealing with street harassment when it comes onto self Javed said, "You must trust your instincts. There is no right or perfect response to harassment, however, studies show that response can reduce the trauma associated. If you decide to respond, do it for you. Second, reclaim your space. Decide how you want to respond. For example, telling the person harassing you exactly what you want them to do or documenting the situation. That is completely up to you. And last, practice resilience. It takes great strength in recognizing that street harassment hurts. You don't have to shove it down and pretend it did not happen. Instead, take care of yourself."