Student Council members excited about new journey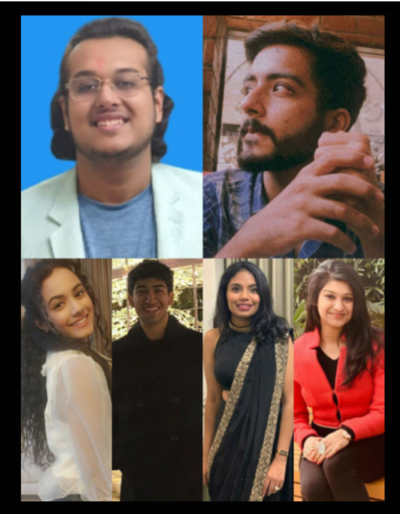 By Ankita

Students Affairs of Bennett University on October 1 announced its Student Council for 2021-22. The new council comprises a president and five vice-presidents, who were selected after their outstanding performances in the previous years, given tasks and a few interview rounds.

While Aaryan Kapur, a BTech student, is the new President, BBA student Anshul Kaul will handle events as one of the vice presidents. Law students Tanvi Gupta and Shivani Gupta are the Vice President for Outreach and the Vice President for governance, respectively. BAJMC student Omanshi Sabharwal will look after all the communication matters for the council as the Vice President for Publicity and Jai Chhabra, another vice president, will manage sponsorship and vendor management.

"It feels amazing to be selected as the President. I feel there is a lot of responsibility on my shoulders now," Aaryan said. In all his interviews and evaluations, he had focused on three major areas – complete transparency, good communication, and fair outcomes to bridge a perfect relation between students and administration.

The online selection process was an issue but still, applicants performed well. Shivani said the biggest challenge for her was to tackle technical errors she faced during the process. "The overall process was indeed challenging as we had to clear multiple rounds and all the rounds were very distinct. But with technology, you never know which error can occur when," she said.

"The roadmap I have for my tenure largely includes making my university recognised and appreciated in the education sector," Tanvi said.

Talking more about her responsibility regarding future events in the university, she said, "In case we have our annual fest (which I really hope we do) the next year or any other event also, I aim to expand the horizon of students who participate via blurring the lines of geographical distances or any other thing. I strongly affirm that I will be sending our university's students for different fests and events outside".

The Student Affairs team comprising of Sameer Ailawadi, Vineet Nehra, and Dr. Arun Kumar completed the Student Council selections with the help of Manisha Shukla in the initial shortlisting. The selections are made based on video submissions, past performances, and video interactions. Total 25-30 applications in the form of video were received.

The new members held an orientation on October 7. "I believe the student council will make a positive impact on the university and enhance the BU's student community. They were all very approachable and interactive," Anoushka, a student of BAJMC, said.