Freshers thrilled to get a sneak peek into BU clubs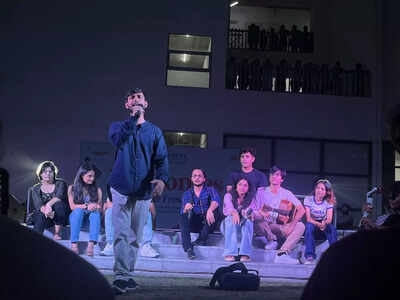 Ansh Club performs for freshers. Photo by Khyati Yadav
By Aditi Shrivastava
Bennett University's Campus lit up again as the students were excited to be a part of the evening of the ongoing freshers' week, held by the student council of the university. The excitement went up when all the clubs such as Panache, Advaita, Rivaaz, Verve, and Cerebrum introduced themselves with outstanding performances which left everyone awestruck.

Being arguably the most successful club, Panache set the stage with their Bollywood-style ramp walk. This time around, they selected a theme based on college life where they described various phases of college. The team of 12 members charmed everybody with their walk and unique act.

"We wanted to portray something that should be relatable for the seniors and something that freshers will soon be experiencing so that everybody presents over there finds the act interesting and also it was our way of telling everybody that panache is not only focused on ramp walk but also adds a little bit of dance to make the act interesting", said Shreya Talwar, Member of Panache.

After throwing a grand Fashion Show by Panache, the students were excited to witness the faceoff between the two Dance clubs of the university, Verve, the western dance club, and Rivaaz, the traditional dance club. The healthy faceoff showcased their different styles and dedication.

"The faceoff occurred after so a long time, Because of fresher's week we were able to display how Verve and Rivaaz our different from each other Although it was a healthy competition and we both respect each other's dance, it was our way to to showcase the skills" said Utkarsh Gangwalia, Member of Verve.

The Drama Club, Ansh, displayed yet another outstanding performance. Their skit was based on expectations every fresher usually has before coming to the college against the reality they are going to experience soon.

"The whole idea was to show the freshers the 'bitter' reality along with the 'sweet' truth that they are going to find their family on campus with time. We all have gone through it, so we thought of showcasing it to them," said Sanya Bhattacharjee, member of Ansh.

Students were mesmerised by the 'Mushaira' presented by Cerebrum, the literary club of Bennett University. Members of the Club played on their belief that there was a poet in everybody's heart.

"To welcome the freshers, we chose two of Rahgir's recitals that were centered on the ideas of new beginnings and the experiences that are universal to first-year students. 'Kaccha Ghada', for instance, metaphorically likens freshers to newly crafted earthen pots - ready to be filled with emotions, but also fragile to external force," said Pranavi Ambati, member of Cerebrum.