TSOM marks World Photography Day with online exhibition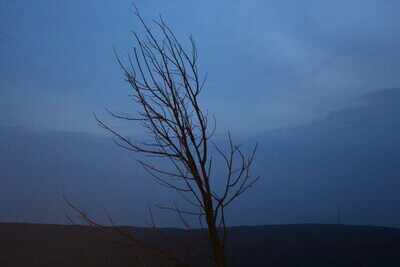 Photograph by Shyambhavi Kumar
By Aditi Paranjpe
They say a photograph can speak a thousand words and tell a story, a story that can captivate people with its artistically brought out essence. We see millions of people and objects every day, and yet, do not appreciate how beautiful the little things are. As Elliot Erwitt says, "photography has little to do with the things we see, and everything to do with the way we see them."
Keeping this in mind, the
Times School of Media
organised an online photo exhibition on account of
World Photography Day
on August 19, 2020, to give the photography enthusiasts a platform to express their love for the art.
Digital photography
is a critical part of TSOM's media course. Students are taught not only the technicalities involved, but are also encouraged to look outside the box and see beyond the obvious to, what Ansel Adams says, "make" a picture.
The faculty and students proved with their
images
that photography is an expression of one's perception and outlook in seeing the beauty in the simplest of things. One does not need fancy cameras or lenses to capture the most stunning moments. The response was overwhelming with images from all over our diverse land, from genres ranging from wildlife to street, from portraits to architectural.
Capturing the drama of the emotions expressed by the eyes, Kartik Pande, Palak Soni, and Shyambhavi Kumar displayed some mesmerizing portraits. Coming to the simple yet beautiful characterization of life, no could beat images by Vanshika Vasundhre Singh, and Priyanshu Chatterjee. Celebrating the pride and heritage of India with some classic shots of monuments and crafts, the exhibition had images from Ishan Dwivedi, and Vartika Madan. Last but not the least, Aditi Paranjpe shared some fascinating images of the marvellous creations of nature. Among the faculty members who participated in the exhibition were Prof Vidya Deshpande, Prof Jatin Gandhi, Prof Shajan C Kumar and Prof Bhavneet Singh Aurora.
Each frame had something unique and reflected the brilliance of the eye of the photographers. The online exhibition was very well received and gained a hundred views in just the first fifteen minutes! At present, the exhibition is close to 1,000 views and the numbers are growing by the minute.
Lastly, to all the photographers out there, in the essence of the words of Robert Adams, "no place is boring if you've had a good night's sleep and fully charged camera."
Happy World Photography Day.
Click here
to visit the
Online Photography Exhibition
.
(The report has been written by Aditi Paranjpe, a Second-Year student of BA (Journalism and Mass Communication) of Bennett University.)

Join exciting programmes offered by Bennett University; Admissions closing soon