Interesting ways to make your Diwali Eco-Friendly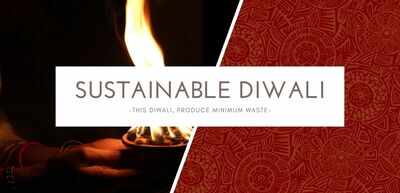 A fun and easy way to make cards for your loved ones!
Crackers alone will not cause pollution this Diwali
The pandemic has led to an unusual increase in the amount of medical waste generated. India alone generated 18,006 tonnes of biomedical waste since June 2020, says the Central Pollution Control Board (CPCB) data. The Covid-19 biomedical wastes include used masks, PPE kits, gloves, shoe covers, items soiled with blood, blood bags, needles, and syringes and other such disposable items. Disposable face masks are convenient as they are for single-use only. However, they are made of plastic and since they are being disposed off in large numbers, they are posing a threat to wildlife and habitats. People need to understand why shifting to reusable and sustainable day to day products is necessary. Here is an easy way to reuse diyas this Diwali:
How is this related to Diwali?
Due to the lockdown, ragpickers are unable to collect the annual household waste during Diwali. Considering the biochemical waste accumulated it is our responsibility to produce a minimum amount of waste by
reusing
most of it. Doing this will ensure minimum household waste adding up in the environment. Basic lifestyle changes like wearing reusable or cloth masks, using old sarees and dupattas to make table runner, placemats, coasters, etc., Purchasing puja idols of silver, etc instead of PoP to reduce the cost of purchasing every year and being eco - friendly. Another easy way is given down below, check it out!
Interesting, what else can be done?
If you have found any empty cardboard boxes while cleaning your house, don't throw them away. Wear a pair of gloves, gab a paper cutter and a marker. Now, draw a horizontal line around the box marking the centre. Following this, cut the box on the lines with a cutter. Once you have 2 halves, decorate them and use them as baskets around the house. Tap on the link below to find another fun activity to do.
Make air fresheners at home!
A
multimedia project
by Avni Chadha