Academically weak kids this school get 'Shaala Mitra'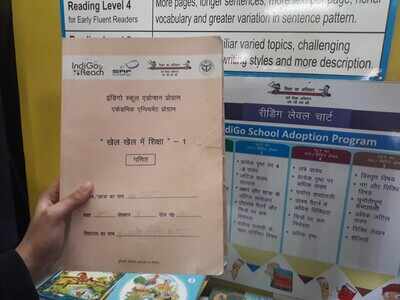 Government schools across the national capital have been seen to have remedial classes for the weak students to bridge the gap in their learning levels. But the same kind of help was not always available in the remote corners of Greater Noida. As a part of developing for the better for the students struggling academically, Upper Primary School (UPS) in Ghodi Bachera has offered help to the students who need it.

"Under the IndiGo 'Adopt a School' Initiative, the school was able to organise remedial classes," said Principal Promod Kumar. 'Shaala Mitra' is a temporary teaching staff member who is hired from the community and is trained by IndiGo Reach to help the students while letting them have fun.

"No student should lag behind their friends. It can lower their self-confidence. Shaala Mitra is designed to beat that in a learning-by-playing programme," said Sangita, IndiGo-appointed Shaala Mitra for UPS. "These classes are for the students who are weak in Maths, Hindi, and English."

There are 20 students in one batch totalling up to 40 students as Sangita teaches 2 batches, one before lunch and the other after. Generally, the students are from classes 3 to 7. These are the students who are seen to have diverted their attention.

Learning-while playing is not a very new method. But the students seem to enjoy their classes. The students are unaware of the fact that they are attending remedial classes. They think that they are getting to play on the pretext of learning.

The remedial classes involve clearing the basics of a student who is not able to do well academically. Once a student clears a baseline evaluation, he/she is sent back to the regular class. This is seen to be practised across Delhi but Ghodi Bachera is new to this happy development.