Counting of votes in Uttar Pradesh begins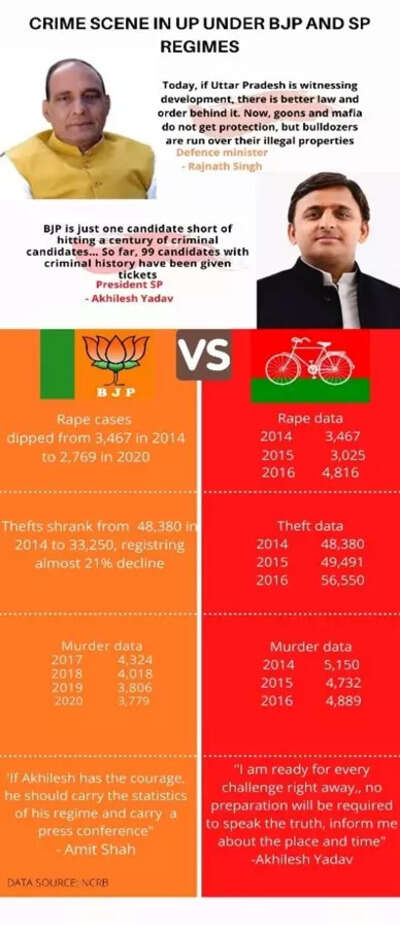 UP Elections 2022: Crime against women in UP
By Falguni Garg
The counting of votes in
Uttar Pradesh
(UP) has begun. Counting in all the 75 districts of Uttar Pradesh began at 8 am. Whether the ruling party, Bharatiya Janata Party (
BJP
), will win with a large majority, whether
Samajwadi Party
(SP)'s vote tally will increase, the answers to these questions of course will become clear on Thursday, March 10.
Polling in UP took place in seven phases from February 10 to March 7.
According to the exit polls, nearly all the pollsters so far have predicted the BJP coming back to power in UP with a reduced majority. The Times Now-Veto exit poll says that the BJP will win once again in Uttar Pradesh with a win in 225 seats out of 403 seats, while the Samajwadi Party will be in the second position and is expected to win in 151 seats. The exit poll also predicts a poor show by Congress with a win in nine seats.
When the voting begins at 8 am, first the postal ballots would be counted, and then the votes polled in the EVM said a PTI report.
This time round, the BJP went in the polls with Apna Dal (Sonelal) and NISHAD party while
Akhilesh Yadav
joined hands with
Rashtriya Lok Dal
(RLD) and a number of regional parties, including Om Prakash Rajbhar's Suheldev Bhartiya Samaj Party (SBSP).
The BJP has been the ruling party in the last five years, after winning majority of the seats and beating the Samajwadi Party (SP) in 2017. Before that, SP governed the state from 2012 to 2017.
In 2017, BJP had won 312 seats on its own and with National Democratic Alliance it had 325 seats. The SP had won 47, Bahujan Samaj Party (BSP) 19 and the Congress had won seven seats, two less than Apna Dal at nine.
Given the fact how critical UP is for all the political parties, each of the party leaders campaigned aggressively. SP chief Akhilesh Yadav addressed 131 rallies, Mayawati of BSP, also campaigned on the streets for her party candidates.
Priyanka Gandhi Vadra
, who led the party from the front in UP, attended 209 rallies (source:
Economic Times
).
Women safety and security in Uttar Pradesh
While people's verdict will be out in some hours today, issues such as crime against women is still a big concern in Uttar Pradesh, as controversy and anger over the alleged gangrape of a Dalit woman by men in Hathras continues to smoulder. However, compared to 2012-2016 period, the crime rate has come down. As per the National Crime Record Bureau's "Crime In India" report of 2020, 9,864 incidents were reported in Uttar Pradesh under the 'Assault on women with intent to outrage her modesty' category. Out of this, 3935 incidents were of sexual harassment and reported rape cases were 2,796 while rape with murder incidents were 31. And as per the National Crime Bureau's report, from 2012-2016, as many as 16,321 incidents of rape were reported, during the regime of SP.
Crime rate comparison between BJP and SP
Voting behaviour
While women safety continues to be a raging issue, there has been a slight shift in the voting behaviour of women. This time in Uttar Pradesh, women voters were almost neck-to-neck with men. Women's lead over men in terms of turnout widened with each passing phase after February 20, with the sixth phase witnessing 62.62% polling percentage among women as against 51.03% among men overall.Women lead over men increased from 0.01% points to 3.89 in the fifth phase and 11.59% points in the sixth- however, the female turnout in all the six phases in UP has been lower than in 2017.
According to The New Republic, while Indian women make up
48 per cent
of the Indian electorate, they account for only 8 per cent of the total 1,271 candidates running for India's lower house of parliament—the Lok Sabha. The number is even lower than in 2014 when, despite the enormous women's vote, only 12.6 percent of the 545 seats in the House were occupied by Indian women. (That number was about half of the
world average
of 24.3 percent.)
More women than men voting as polling moves east
For the counting day a three-layer security set-up has been made comprising central police forces, PAC (Provincial Armed Constabulary) and the state police for the counting day. Also, 625 gazetted officers of UP Police,; 1,807 inspectors; 9,598 sub-inspectors, 11,627 head constables and 48,649 constables have been put on duty.
While the exit polls are indicative of a trend, what the people of UP want will become clear on March 10.