A dog's life in a pandemic: If 'Shadow' could write...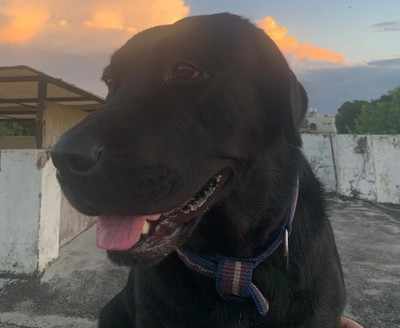 Shadow loves it that her best friend is around all the time now. (Photo: Falguni Garg)
By Falguni Garg
With the
pandemic
hitting us hard, I realised it is easier if you have a companion by your side - even better if that companion has a wet nose and a tail. My dog has always made my life easier, from the very beginning.
Sometimes, I wonder, does my companion know how much she matters to me? Does she know how she has helped me deal with the
anxiety
that comes because of the pandemic? I wonder what goes on in her mind.
Here's an attempt to see it all from her point of view.
Read on for a dog's view of life in a pandemic...
---
When I came into this world, I did not open my eyes for the longest time. Although I could not see where I was, I could hear and feel. I felt touch and heard things that I did not understand. Often, I would feel a warm hand caress my tummy and head gently, and along with that would come a high-pitched voice. I could not comprehend what it said, but I knew the words carried emotion.
One sunny morning, when the sky was a ruddy shade, I opened my eyes and saw a teary-eyed figure staring at me. It did not have four paws like me, neither did it have a furry body. I was muddled for a while but when I felt the same caress touch and heard the same squeaky voice, I knew this was where I belonged.
Gradually I began to learn things. I learnt my name was Shadow and I had a mother named Buttercup. The first thing I saw when I had opened my eyes was not just a human but also my caretaker and my best friend. We did everything together. I also learnt that I loved eating, probably my second favourite thing to do; the first was making memories with my best friend.
I don't like change

My best friend and I had a routine. We would wake up together and go for a walk. Sometimes when she did not wake up, I would jump on her until she did. After the walk, we would eat together. And then came the time that I had come to despise the most - she would wear a uniform and disappear for hours. I would sit by the door and wait for her to come back, and when she did, we would spend the evening together, playing games, eating, or just sleeping.
Shadow, pictured in her younger days here, is happy that her best friend is mostly at home now. (Photo: Falguni Garg)
One day she packed her bags and did not come back after a few hours, then days. I waited by the door for the longest time, eagerly waiting for her to call my name. Months felt like years without her presence. I still remember the day I heard the familiar footsteps and ran to the door as fast as I could to be greeted by the same smell and the same love.
Now, this was our new routine. She would leave for months but she also give me surprise visits. It was tough but, knowing that she would come back, even if only for a day or two, gave me comfort.
And then it changed again...
I remember the day she came back home and did not leave as she used to. Not just her, everyone at home stopped stepping out. They all seemed stressed but I could not contain my happiness. It was because of some virus; I did not really know what that meant. All I cared about was that we were all together again. This was everything I had ever wanted.
Shadow, too, wants 'this whole virus thing' to end soon. (Photo: Falguni Garg)
My best friend was always at home, right by my side. Sometimes she would get irritated, and fight with everyone at home. She would also feel anxious and, even though I did not understand the emotions she was feeling, I knew my presence made her feel better.
Everyday she woke up to sit in front of a screen and spend her entire day listening to the screen talk. She would get annoyed and sometimes I even caught her crying in her bed. I did not understand why this was happening. I had never seen her so exasperated. I would just go and sit beside her, keeping my paw in her lap.
To this day, she has not left home, which is something new to me. We have made so many memories together in the last few months and I like to be there for her whenever she is low, which has happened a lot lately. I know she is bothered by the whole virus thing and she wants it to end. I still do not understand what this thing is; for me it's a reason to spend every day next to my best friend, yet I wish every night for it to end because I want her to be untroubled.
I remember how ruddy and beautiful the sky was when I had first opened my eyes. But all I could really see was my best friend, because she is the most beautiful thing in the world. And I know she feels the same when she touches my nose and goes, 'Boop!'