Dono: Rajveer Deol's promising entry into B-town's glam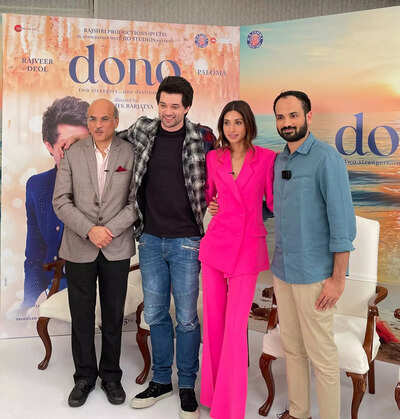 The debuting actors Rajveer Deol and Paloma with the debuting director Avnish Barjatya and Rajshree Production veteran Suraj Barjatya.

By Ritika Choudhary

Rajveer Deol, the son of Bollywood veteran Sunny Deol, is all set to captivate the Indian film audience with his highly anticipated debut in the upcoming movie "Dono." Sharing the silver screen with him is Paloma, the talented daughter of renowned actress Poonam Dhillon.



This film also marks the directorial debut of Avnish Barjatya, the son of renowned filmmaker Sooraj Barjatya. The excitement surrounding "Dono" is reaching new heights as it gears up for a nationwide theatrical release on October 5th, promising an enthralling cinematic experience for young movie enthusiasts.



In a recent interview with Times of Bennett, Rajveer Deol expressed his enthusiasm for starting his career with a prestigious banner like Rajshree and Avnish Barjatya. He was drawn to the film not only because it is a Rajshree Production but also due to its compelling script and his character, Dev.



Rajveer shared, "The emotional arc of the movie and the main theme of closure, along with Dev's plot line as an anti-hero, really resonated with me and made me feel connected to the script. I found him relatable, and I believe that people from our generation will easily relate to him."



When it comes to working with Avnish, Rajveer mentioned that they both provided each other with tips and guidance during the initial stages. Being newcomers in their respective fields, they experimented and exercised patience while working on scenes. Rajveer described their relationship on set, saying, "Avnish told me, 'I will be your biggest critic in this room, and outside, I'll be your biggest supporter,' and that's how our relationship was throughout."



One of the aspects Rajveer related to the most was Dev's insecurity and his constant struggle to establish his own identity. He explained, "The metaphor of my life is also trying to get out of my father's shadow, just like Dev's. He always feels like life is dragging him down, and I could relate to these insecurities."



When asked about balancing his personal and professional life while handling media attention due to his father's fame, Rajveer shared his approach. "I work from morning to evening, and once the day ends, I set aside my phone and try to relax and destress. I have grown accustomed to the pressure from the media because there was always a comparison with my father, uncle, and grandfather while growing up. Mentally, I have programmed myself not to feel that pressure."



To distinguish himself from his family's legacy, Rajveer expressed his desire to be invisible and versatile and not have a specific signature style. This will allow him to blend into different types of characters seamlessly.



In conclusion, Rajveer expressed his expectations for the audience and critics regarding the movie. He said, "We have put our heart and soul into this project, and now it's in their hands. I am confident that they will be pleasantly surprised by how Avnish has revolutionized the Rajshri formula to make it relatable to the modern audience. People will be amazed by the characters, the story, and the way it has been shot because everyone involved in this movie has done a fantastic job."