India breaches climate pledge, pitches for NSG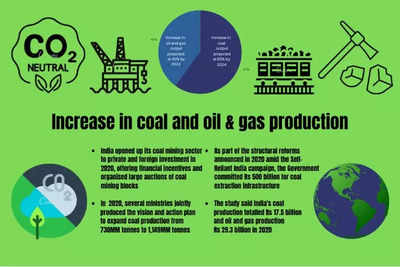 India has opened up private sectors for foreign investors to increase production in coal, oil and gas production.
By RITIKA CHOUDHARY
NEW DELHI: Instead of decreasing fossil fuel production as per the
Paris Agreement
,
India
has decided to go full throttle into expanding its coal output by 60 per cent and
oil
and gas by 40 per cent by 2024.
Expressing concern over this "breach of net-zero emission promise" by India, the UNEP's
The Production Gap report
, said: "Planned fossil fuel output remains dangerously out of sync with Paris Agreement limits."
In 2016, India had pledged an up to a 35 per cent cut in its emissions by 2030. However, at the 2021 COP26
climate
meet, Prime Minister
Narendra Modi
expressed his inability to honour the net-zero promise, saying that this would be possible only if India was included in the Nuclear Suppliers Group.
The India chapter in the
UNDP
report quotes says that India's decision to "unleash the power of coal" is triggered by its goal to become self-reliant by 2023-24.
"The Government is committed to increasing production because India has less resources to support electric mobility or alternative energy as compared to the US. But in the next decade, it is going to be a big thing," Sarika Panda Bhatt, environmentalist and co-founder of Raahgiri Day, said.
"In 2020, several ministries jointly produced the action plan to expand coal production from 730MM tonnes to 1,149MM tonnes by 2024 through removal of barriers to land acquisition and building capacity for exploration," the UNDP report said.
India also aims to increase its total oil and gas production by over 40 per cent in the same period through accelerated exploration licensing, faster monetisation of discoveries and gas marketing reforms, it added.
Another report by Garg et al estimated that subsidies for coal production totalled Rs 17.5 billion and those for oil and gas Rs 29.3 billion in 2020.
As part of the structural reforms under the Self-Reliant India campaign, the Government committed Rs 500 billion for coal extraction infrastructure.
When India opened its coal mining sector to private and foreign investment in 2020, the decision was opposed by Jharkhand, Chhattisgarh and Maharashtra on environmental ground.
"This will destroy the ecosystem around the area because any mining activity demolishes the forest area. The social impact is severe because it hits the health of mine workers," Bhatt said.
Over the past decade, however, the Ministry of
Environment
, Forest and Climate Change has narrowed down the public consultation process for coal mine projects.
"The Government does not have any policies for winding down fossil fuel production or for supporting a just transition because the discussion regarding the shift from coal to alternate sources like solar has just started. Maybe in five years, we will see some favourable changes but it will take a decade for it to impact," Bhatt said
Speaking at the G-20 summit in Rome, Commerce & Industry Minister
Piyush Goyal
said: "This (transition from coal) is something that will have to be decided in term of types of technologies that will be available for climate transition. For example, for our technology to be replaced from coal to nuclear, we will need large capital for setting up nuclear power plants. We will need to be a member of the Nuclear Suppliers' Group for adequate availability of raw material for nuclear supply,'' he added.