Will Punjab get a Dalit or ex-comedian for CM?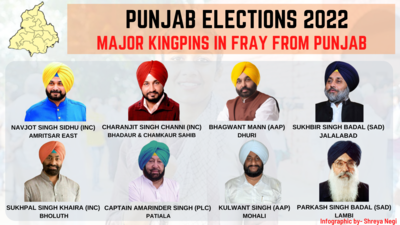 Punjab Polls: Major kingpins in fray
By Shreya Negi
Punjab
is all set to witness a keen electoral battle between the Aam Aadmi Party and the Congress which is banking upon Charanjit Singh Channi, who is the first Dalit Chief Minister of Punjab.
On 20th February, Punjab went to polls for Assembly Elections 2022. The results for the same will be released on 10th March. With a total of 1,304 candidates in the fray for 117 seats, the halfway majority for the Punjab polls rests at 58 seats.
Until now, Congress has had a powerplay in Punjab. But with a relatively new entrant, AAP coming up in the electoral arena with strong and compelling promises, the scenario seems to have shifted in their favour. The comedian-turned-politician, Bhagwant Mann who is the CM face of AAP in Punjab is likely to become the next CM if the AAP musters a majority in the state, as predicted by the Exit Polls on 7
th
March.
INC's Charanjit Singh Channi has been constantly highlighting the development of Punjab under his tenure. But what has dented his candidacy is the arrest of his nephew by the Enforcement Directorate for money laundering in an illegal sand mining case.
Current Political Line-up:
Punjab is witnessing a four-cornered Assembly Election in 2022, with key political parties vying for representation in the state, by putting their best foot forward as the Chief Ministerial Candidate.
The Shiromani Akali Dal-Bahujan Samaj Party coalition and the Bharatiya Janta Party-Punjab Lok Congress-Shiromani Akali Dal (Sanyukt) coalition are two recent alliances in the state. In addition to Sanyukt Samaj Morcha, a coalition of farm unions, Congress and Aam Aadmi Party, are contesting individually.
The Chief Ministerial faces are as follows:
1. AAP- Bhagwant Mann
2. INC- Charanjit Singh Channi
3. SAD-BSP Alliance- Sukhbir Singh Badal
4. BJP-PLC-SAD (Sanyukt) Alliance- Not yet declared
Political powerplay in the 2017 Elections:
The Congress, led by
Captain Amarinder Singh
, won a resounding victory in 2017 by sweeping 77 seats and securing over 38.5% votes. The INC returned to power in Punjab, after a ten-year absence.
The runner up in Punjab was AAP, a newcomer in the Punjab elections. It had won 20 seats and secured over 23.8% votes. The BJP-SAD alliance ranked third by winning 17 seats and gathering 30.6% votes.
Captain had lost the state's lengthy tussle and thus resigned in 2021. After this, Charanjit Singh Channi was sworn in as Punjab's new Chief Minister.
Key issues:
The two main issues on the limelight in the Punjab Assembly elections are unemployment, the delivery of justice in sacrilege cases, illicit sand mining, and the drug scourge.
Other important themes echoing in the elections include the drug mafia, liquor mafia, transportation mafia, cable mafia, farmers' grievance, corruption and mounting state debt.
Voting Demographics and Polling set-up:

1.Voter Count:
According to Punjab Chief Electoral Officer S Karuna Raju, the state has 2,14,99,804 registered voters, with 1,12,98,081 males, 1,02,00,996 females, 727 third genders, 1,58,341 People With Disabilities , 1,09,624 Service voters, 1,608 Non-Indian Residents, and 5,09,205 voters over the age of 80 years. Punjab's voting turnout in the 2022 elections was 72 percent, the lowest in 15 years.
2.Religious communities:
According to the 2011 census, Sikhs account for 57.69 percent of the 2.77 million people in Punjab. The Muslim population of Punjab is 1.93 percent, whereas the Christian population is 1.26 percent. Hindus have a prominent role in Punjab state elections, accounting for 38.49 percent of the overall population.
3.Polling set-ups:
A total of 24,740 voting stations have been put up at 14684 polling locations, according to the S Karuna Raju, Chief Electoral Officer (Punjab). To ensure free and Fair elections, all polling booths were covered under webcasting. This was done in the presence of airtight security.