A date with a stranger on campus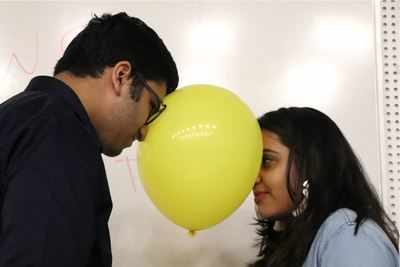 By Sanidhya Sharda
Bennett University's staple student event, The
Blind Date
, aptly renamed 'Meet the Unknown' in 2019, returned to a great deal of longing amongst freshers. Organised by
Pulse
, Bennett's Events and Gaming club,
Meet the Unknown
saw more than 80 registered participants. Their names being randomly drafted basis the number assigned to them to make 40 couples total.
Freshers Chirag Aggarwal from School of Management and Shruti from Times School of Media were crowned Best Couple. The dynamic duo won the series of competitions with cooperation, creativity and wit. They were awarded food vouchers for ₹400 each. "They definitely have the best chemistry among couples here," said SPIC MACAR Secretary, Meher Dhanjal after watching their final performance.
The competition was split into three rounds. The first round called 'Game for fame' involved an assortment of four mini games. 'Sip it up' had the participants emptying ice cube trays with straws. 'Dance with the balloons' made couples dance with a balloon held between their noses. 'Blow it out' had people blowing through straws to knock over objects. And 'What's the word for it' was a rapid-fire vocabulary quiz asking people synonyms and antonyms of random words.
The 15 couples that qualified for the second round were sent on a campus wide treasure hunt. They were all handed chits with clues on them. The clues being coded messages directing them to their next location where they'd find their next clue. After gathering three such chits they had to return to the original venue. The first 5 couples to manage doing so qualified for the third and final round.
After being given 15 minutes to prepare a basic dance routine on a song of their choice. During which the audience and volunteers had a mini dance party of their own. The couples then had to perform their dance routines, which was judged by the audience made up of non-participating freshers and a handful of seniors. Winners were decided based on the crowd's response to the performances.