A 'Uphoric' Valentine's dance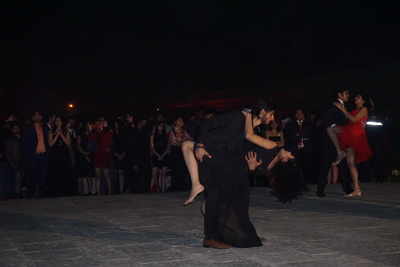 By Sanidhya Sharda

Dozens of students dressed in fancy gowns and suits took to the stage on the first evening of Bennett's annual student fest, Uphoria 4.0. The student ball, for which participants and choreographers had been practising for a little over 3 weeks unfolded in a graceful rundown of different styles and tempos.

Opening with Freestyle Salsa. For which students had been trained by Mass comm. second years' Deghpreet Kaur Lamba and BBA second years' Anmol Bansal. The first performers moved to the tunes of songs like 'Pyaar Ki Ek Kahani Suno', 'Jaise Mera Tu', and 'Ankhon Mein Teri'.

This was followed by performances in different styles like Bachata choreographed by Saurabh Tantia and Dhriti Gaur, Bollywood Freestyle by Japna Batra and Siddharta Dayani, Cha-Cha under the guidance of Madhav Ginoria and Tanaya Ginoria as well as fusions cooked up by choreographers Anirudh Sarda, Apoorva Mehta.

"Participants showed a lot of co-operation and dedication learning the moves," said Japna Batra, A BBA student in her final year and one of the choreographers behind the Bollywood freestyle performance. "it was a good opportunity for people to impress their partners on Valentine's day" Added her partner, Siddharta Dayani, first-year BA(J&MC).

The selection of songs also changed to reflect the mood and tempo of the styles accordingly. With pieces such as 'Senorita', 'Gori Gori' and 'Mere Sohneya' all finding their way onto the same stage one after another. "It was definitely a good experience to have with your valentine," said Khushi Pal, a performer and second-year BA(J&MC) student.