American columnist talks on opinion writing with BU students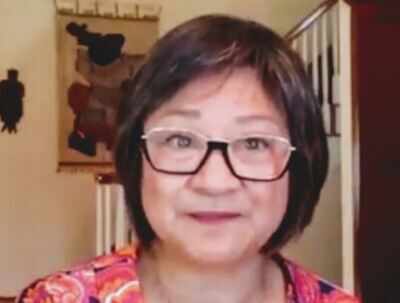 Celebrated American author and columnist Suzette Martinez Standring speaks to TSOM students
By Ada Kohli and Yash Mishra
Award-winning American columnist and author
Suzette Martinez
Standring addressed
journalism students
of
Bennett University
(BU) on the art of
opinion writing
.
In an online guest lecture organised by the Times School of Media on Thursday, the author of award-winning books 'Art of Opinion Writing' and 'The Art of Column writing' talked about the tenets, mores, place and power of opinion writing in journalism.
She pointed out the personal responsibility of the writer when it comes to usage of the word 'I' in an opinion piece. An opinion write-up can bring along a lot of hate and anger towards the writer, she said.
"A journalist must have the ability to stomach all the negativity to succeed in the genre of opinion writing. Opinion writing is the art of persuasion. You have 500 words to convey your message," she said. Opinion writers, she specified, can start a national dialogue and make the readers feel that the writer of the piece is there to voice their opinion, fears, insecurities, which they are unable to convey. It makes the reader feel that they are not alone.
Important tips to opinion writing are:

1. Have a clear stance on the matter you are writing. You cannot waffle on both sides.
2. Develop your own personality in writing and the style you adopt.
3. Find an expert and quote them to increase the credibility and information of your piece.
4. Back your opinion with facts, statistics, and detailed research.
5. It is important to use dialogues while writing. The use of emotion is important to keep the reader engaged.
Opinion writing involves writing about issues that are sensitive like religion, racism, politics, and so on. While writing on such issues she makes it a point to poke fun on herself. By doing this, she can convey important messages by coating it with humour and light-toned conversation.
A Times School of Media student at Bennett University asked, "What if the newspaper rejects your opinion piece?" To this, she pointed out famous journalist James Bennett who was fired from New York times because he quoted a writer whose words did not fit in with the stand of the organization. According to her, one can start a blog of their own and put forward their opinion. One can also try and contact a competing publication who might be interested in publishing their write-up.
Another student asked about the depth of the power of an opinion article to which she replied that "Yes, it makes changes in the society, slowly but be sure it does". She stressed upon the fact that how important it is to choose a topic that moves the writer and how one can package it with emotion and compassion.
At the end she advised students to ask three questions before writing an opinion piece:
Does It relate to a larger audience?
Who cares about what you are planning to write?
(The report has been written by Ada Kohli and Yash Mishra, Third-Year students of BA (Journalism and Mass Communication) of Bennett University.)

Join exciting programmes offered by Bennett University; Admissions closing soon