Ashoka snatch away Expedite Football tournament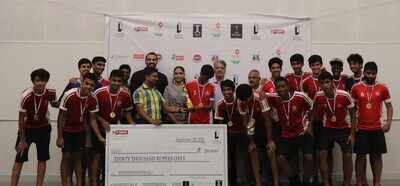 By Shravak Shakya
As the sun rose on the 29th of September, it marked the day of the finals at the inaugural edition of
Expedite
,
Bennett University
's sports fest. The Bennettian teams had come up with some strong performances in the qualifiers the previous day to make it to the finals. Unfortunately, they couldn't draw the final straw, falling short in the finale.
Bennett University had contested the
football
tournament with two teams, the 'A team' and the 'B team'. But only the A team could make it to the finals where they were pitted against
Ashoka University
.
The football finals were scheduled to start at 3:30 pm. Before the game kicked off both teams came together pictures with the officials and the Dean of Student Affairs, Dr. Milind Padalkar. Shortly after, the game kicked off to a rapturous reception.
The game was tightly contested and none of the sides seemed ready to yield. Despite attackers from both sites throwing everything at their respective opposition, the defenses put up a valiant fight keeping the ball out of the net, and the scores level.
Extra time had a similar story as both sides failed to convert the chances that came their way, with the game eventually heading into penalties. Both teams missed one shot each in the initial five spot kicks. Going into the sudden death, the Ashoka University goalkeeper stood up to the challenge, saving the decisive penalty.
Arsh Katyal, captain of the BU Football team, who is in his final year at the University, said that he was immensely proud to be representing the team and hopes his juniors will carry on the growth of team and win the trophy next time. He also thanked his team, his coach and everyone who supported the team.
Ashoka University lifted the trophy later in the day, during the felicitation ceremony. They also received the cash prize of ₹30,000 from the final prize pool. The felicitation was followed by Das Vidanya, the final farewell to the participants, after three days of the very highest level of sports