Beginning of the 'Surreal' Uphoria 4.0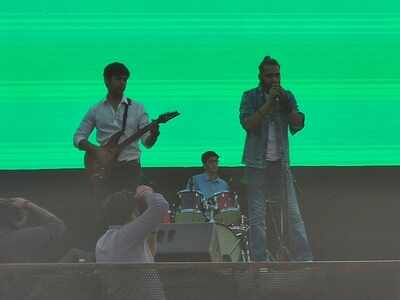 By Jahanvi Manchanda

Bennett University held its fourth fest on 14th of February 2020, Uphoria 4.0. A plethora of performances took place. The performances ranged from classical dance to popular numbers and songs were sung. The theme of this year's Uphoria was 'Surreal'. The stage was set up and so was the lightning. There were food stalls, offering delicious delights.

The celebrations started off with the lamp lighting ceremony by our chief guests' Mr. Milind Padalkar, Dean of students affair, Mr. Ramesh Rawat Kotak Mahindra sponsor and Vice Chancellor, Raghunath K Shevgaonkar. The lamp lighting ceremony was followed by a mix of various classical art forms like Bharatanatyam and Kathak dance by the dance society of the college. The Vice Chancellor of the college said a few very motivating words, he said, "Whatever may happen don't lose hope you all have worked very hard for this, some mishaps may happen don't let that affect you."
The two main emcees of the evening were Karan Beniwal, second year Journalism and Mass Communication and Navneet Singh, first year Journalism and Mass Communication student both of these emcees kept the audience excited and happy with their slapstick comedy. As the fest was on valentine's day they managed to pull off a parody on it.

The first performance of the evening was a dance performance by verve the contemporary dance society of the college. They performed on a variety of songs from various languages like Telugu, English and Hindi. It was a very power packed performance.

The music society of the college, Advaita gave a performance for the seniors and stirred the emotions of all. "The performance was very emotional it made me realise that there is not much time left for us to graduate and never be able to live the college life again," said Shivam Shukla 4 th year btech student.

Followed by this was another performance by verve, the dance society of the college which was on Punjabi songs everyone was enjoying, hooting and cheering for the performers.

Students took a lot of efforts to organise this event both on stage and off stage. From organising the event to ensuring no technical mishaps, inviting various food stalls. The students organising made sure everyone has fun and no major mishaps take place.

"It is very fun in organising a whole event setting up the stage bringing in instruments doing a mic check to have an amazing performance all the technicalities need to be kept in mind to avoid any mishaps," said Raghav Verma a performer and a core member of the music society of the college.

The opening ceremony ended with the emcee pumping up the students and exciting them for upcoming three-day euphoric experience and they ended on the note saying that the next three days are full of surprises for all of us.