Bennett Hatchery gets a new identity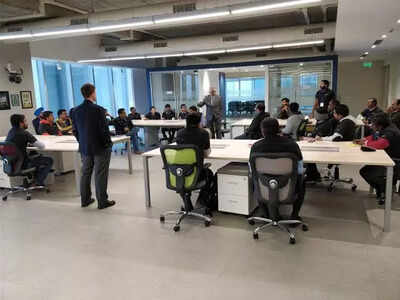 Students at work at the Bennett Hatchery. Photo by: Shagun Pandey
By Shagun Pandey

At Bennett University, entrepreneurship is nurtured in the Bennett Hatchery. It offers new aspiring entrepreneurs the physical space, funding, training, mentoring, and resources they need to start their first significant thing. It is open to all students, faculty, and staff.

The Bennett Hatchery transforms the dynamic curriculum of Center of Innovation and Entrepreneurship into cutting-edge start-ups developed by students, faculty, and staff from all academic fields. It is a recognised incubator by the UP government. It has also generated more than 116 crores in funding and around 200 jobs.

The incubator at Bennett University has even launched more than 75 businesses. Bennett University's Center of Innovation and Entrepreneurship is in collaboration with the Babson college which is known for its world class entrepreneurship education.

The Bennett hatchery team is headed by Dr. Vinod Shastri, Mr. Manish Mathur who is the senior head and Mr. Shubham Awasthi, senior program executive.The Bennett Hatchery is not just available for the university students but also for the external aspiring students and their startups.

The Hatchery at Bennett University just registered itself as a separate operating system, effective July 6, 2023, in accordance with the UP-government's directive. Presently, it is known as the Bennett Hatchery Foundation. Since the business is officially registered, it will have its own resources and be eligible to receive assistance from the UP-state government. They will now be able to give the entrepreneurs more support in terms of resources.

To better help the startups in terms of PR, branding, etc., the foundation will now be in contact with the Times group or the parent group. According to the government's directive, the foundation may even own a stake from the incubated firms ranging from 2 to 9.5%, in exchange for which it offers them all the assistance and resources they need. "More than 20 startups have been launched from the hatchery to date, and more than 20 of those are succeeding greatly. The INSTA DAPP, which has made it simpler for customers to deposit bitcoins and earn interest over time, is one of the two firms that deserves to be mentioned.

It is currently valued at between 800 to 1000 crores. Recently featured in the Forbes under 30. One more of the successful firms from the Hatchery is SAVART, a fintech startup. This is valued at about 400 crores." says Mr. Manish Mathur, senior manager at the Bennett Hatchery. Given the rise of start-up culture in India, we are sure that hatchery has something exciting to offer on the table, till then we can continue hatching-Ideas!