Bennettians enjoy and earn Rs. 983 with Mirchi 98.3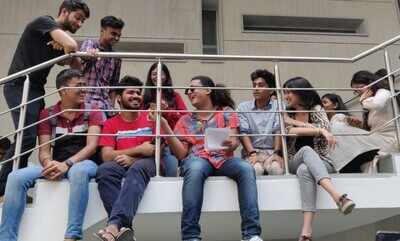 By Simran Jha

One of the commonly faced problems by college students is money management. As they reach the month-end, their pockets and wallets get empty. To help the students make their wallets a bit heavier, RJ Vidit aka Sharma ji ka ladka from Radio Mirchi 98.3 visited Bennett University for a fun-filled game session as part of Radio Mirchi's new campaign 'Pocket Money 983' where RJs visit college campuses, play games with the students and give them Rs. 983 as cash prize.

Day 3 of the campaign was held in Bennett University. This was Vidit's third visit to the campus. As he had already interacted with the students twice, he was welcomed with a lot of enthusiasm. The excitement in the cafeteria reached its peak as Vidit interacted with the students regarding their day-to-day college issues. As the session continued, the most important part of it was revealed. Vidit was supposed to go individually to friend groups in mess, ask them six questions and if they were able to answer 4 or more correctly, they were given a cash prize of Rs 983.

The students accepted the challenge readily. The questions were based on general topics like entertainment, Bollywood and sports which most of the students were aware of and were able to answer correctly. All the winning groups got an envelope with Rs 983 each which they further divided among themselves.

As most of them thought of investing their share of money in food, Saumya Mishra, a first-year student from Times School of Media, says "Since I am not going broke this month, I will send my share of cash to the Animal Rights club (BARC) of the college. I really want to help the poor animals."

"I've been to Bennett University thrice, and this is honestly my favourite visit. I was not here to teach something or to give them a boring session. I was here to play games with them, to interact with them and the students made it so easy and special! They accepted me as their friend, they don't think of me as a guest anymore and that feeling is so good. I just can't wait for this session to go on air from 7:00-8:00 PM today on Radio Mirchi 98.3," Vidit said.

The refreshing session provided the students a break from their hectic academic schedule. It ended with the students clicking happy selfies with their favourite RJ and Vidit promising to come again.