Bennett's engineering student pens two books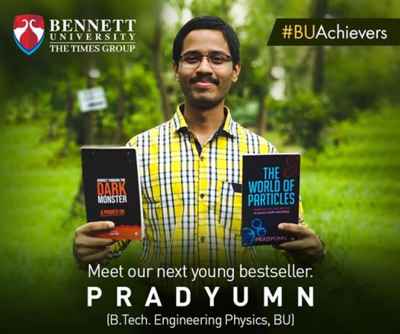 By Anshika Kathuria
Pradyumn Mane, a third-year Engineering
student
at
Bennett University
, has penned two non-fiction books titled '
Journey Through the Dark Monster
' and '
The World of Particles
'. While the former is on general relativity and black holes, the latter tells readers the 'recipe' to build our universe.
Mane, who is pursuing
Engineering
Physics, already has many academic achievements under his belt. He not only has his research papers published in various journals, they were also presented at WEENTECH (World Energy and Environment Technology Ltd.) International Conference held at Heriot-Watt University, United Kingdom.
Mane's motivation for writing the books was simply his curiosity for Physics and his desire to make Physics an enjoyable and easy to understand subject for high school students.
"Instead of satisfying my thirst for knowledge, my exploration amplified it. And that led me to explore even more. The more I explored, the more I gained, the more eager I became to speak about it and to share my understanding with everyone," he says.
For Mane, his journey of becoming an author was an 'organic process' rather than a 'eureka moment'. He first started with writing blogs, doing research, reading books, watching documentaries, pursuing courses and maintaining his research diary- where he writes the concepts and theories he learns.
The balancing act
Considering how intensive the engineering course is, it's a wonder how Mane could find the time to pen two books. "I like to organize my work and prepare a to-do list before I go to bed and this has helped me strike a balance between my studies and writing."
Another practice that helps Mane focus on his writing is his control over negative thoughts. "I have little time to dwell upon disappointments."
How Mane's books got published
Dr. Vinod Shastri
, Head of Academics & Research at the Centre for
Innovation
and
Entrepreneurship
and Professor Shajan Kumar, Times School of Media Bennett University, helped Mane get his books published.
Of course, getting a book published is not an easy task but Professor Shastri came up with a novel way to get Mane's books published. As the Head of Centre of Innovation and Entrepreneurship, Dr. Shastri's efforts were two-fold. "On the one hand, we wanted Pradyumn to feel the joy of getting published and on the other, think of a way to get him readers. So, we reached out to the our Bennett students to donate an amount of Rs 20 each to help raise money for the books and also create an emotional stake by getting involved in the achievement of a fellow student" he says.
Dr. Vinod Shastri, who started his journey in entrepreneurship in 1988, got trained at Entrepreneurship Development Institute of India at Ahmedabad, the apex body in the field. He has worked extensively in the field of entrepreneurship development and has managed to help 500 campuses across the country to set up entrepreneurship cells, including a few IIMs and IITs. He has played a pivotal role in getting Pradyumn's books published. When asked about the kind of student Pradyumn is and which of his qualities appealed the most to him, he replied that "Pradyumn is completely committed, willing to experiment, dive deep and even willing to fail; these are all entrepreneurial qualities. If backed properly, this boy can go quite far!"
The Quantum revolution
Writing two books is just the beginning of a long journey. Mane has many other plans but he wants to keep them under wraps for now. "Just as I love to be surprised, I equally like to give surprises. So, time will tell you!" But he certainly drops a hint for his readers. "Technological revolutions that completely transformed humanity. Like Industrial Revolution and Silicon Revolution, there's another revolution waiting at our doorstep and that is Quantum Revolution!" With that hint, he also leaves us with a question he wants us all to start asking: "at what end do you see yourself during such Quantum Revolution? Do you see yourself at the user's end where you are under the control of technology, or do you see yourself at the scientist's end where you control the technology?"
So, any advice for those Bennett students who like Mane have big dreams but don't know how to go about realizing them? Well, in the words of Professor Shastri, just do it, it's not a big deal. "Don't hesitate, don't think it's not possible or too difficult to achieve!"
(The report has been written by Anshika Kathuria, a Third-Year student of BA (Journalism and Mass Communication) of Bennett University.)

Join exciting programmes offered by Bennett University; Admissions closing soon