BU's newest entrepreneur has the ultimate COVID lifehack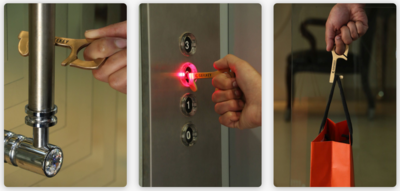 By Sanidhya Sharda
C-Safekey
is a keychain-sized multipurpose brass tool that has made headlines recently. Packed with functionality for a lot of daily needs in these COVID times, it is the creation of
Zaid Naim
, a 3
rd
year BBA student of
Bennett
university. C-Safekey can be used to push buttons in elevators and ATMs, pull door handles and even carry bags; the device demonstrates innovation that resolves a relatively new real-world problem.
"I was going through Kickstarter when I saw an American campaign for a device that was aimed at eliminating direct contact with touchscreens," says Zaid, "And I thought that this idea could be expanded upon because touchscreens are not the only thing we touch". Now in his final year, Zaid has always had a focus on entrepreneurship and marketing. He comes from a business background with his family operating a company by the name of Jasper home fashions, catering to the international home décor market.
"I had been in touch with the Bennett hatchery and the CIE (Centre for Innovation and Entrepreneurship) since the very start because I wanted to expand my family's business in the domestic market," he explains.
Although having a product like this was never part of his plan, the moment can be best described as a marriage of preparation and opportunity. Utilizing his family business' fabrication capacity, he was able to take his product to the masses via Amazon. The reception was pleasantly surprising as his product soared in both sales and reviews. With over 4,500 units of the item having been sold across India alone.
"There was a point when I did run into an issue while selling on Amazon," he says, describing how his listing on the e-commerce site was hijacked "Because it's a free market place, anybody can sell under my listing and when someone clicks buy now, Amazon will hand the sale to the lowest price seller".
A few days after his product went live, someone undercut him on the pricing for his own listing. "But they were selling a cheap plastic variation instead of the brass one that we make and we instantly started getting negative reviews for it," he says.
Thankfully, after getting in touch with CIE, his mentor Dr Vinod Shastri, was able to advise him and mobilized his personal connections at Amazon to help him resolve the problem.
When asked about a mantra for success for other aspiring entrepreneurs, Zaid shared a trick he learned from an expert in the entrepreneurial field:
"Hundreds of people say that they have an idea for a startup that they'd like to take forward, but a good trick is to ask them for a document containing all the details of their idea and what they plan to do with it. Upon doing this," he says, "out of the original hundred, only 2-3 people actually come up with that document."
The idea behind this trick is a transition from vapid, pie-in-the-sky thoughts to on-ground, tangible research. Only one of which can take an
entrepreneur
forward.
Join exciting programmes offered by Bennett University; Admissions closing soon