Best time ever to be a storyteller: Rohit Saran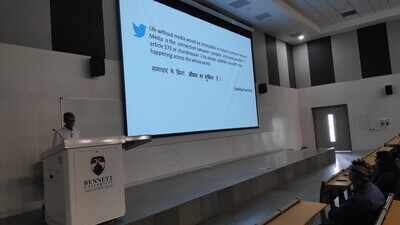 Rohit
Saran, Managing
Editor, Times of India spoke to media students of Bennett University
on Thursday.
He
spoke
about why
this is the best time to become a journalist
and the qualities a good journalist should have.
World without a media
Saran
first showed a series of tweets that talked about
a world without a media, that the students had sent him.
While some
of those tweets
spoke how
the media works as a
watchdog,
others talked about how without media, the world
would
descend into trash
talk
and opinions.
Yet others
posted various memes and artwork to depict their idea.
Storytelling is a handy
skill
Saran said,
"If
you ever change professions, a good story telling skill will come
in
handy
for
you."
He also
told the students how to identify the storyteller in them.
He said that if each element of a story tells a mini story, it would make them a far better
journalist.
He
also said that a good story teller must also be excited
about their job.
"You always have to be excited with what you do. If you are not excited,
you are
not
exciting" he said. "You have to be inspired."
Web is the future
Saran told the students how web has
made
it possible to get feedback immediately.
"Since you are now online, you can trigger a debate
" he said. "You'll get to know people's views immediately
."
He said that students can then choose to make changes in their own opinions
based on that.