BU showcases unity in diversity on Independence Day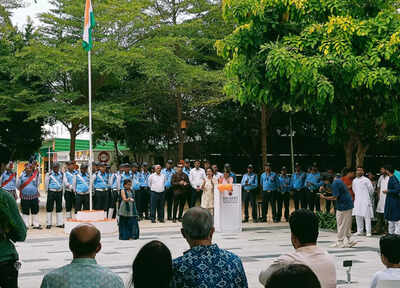 Adamya Veer Jain recites Aradhana.
By Pakhi Dave
In a spectacular display of patriotism,
Bennett University
celebrated India's 77th
Independence Day
with an array of vibrant performances and inspiring speeches. The event, held on the university campus, brought together students, faculty and staff to commemorate the nation's
freedom
struggle and
unity
in
diversity
.
Vice-Chancellor Prabhu Kumar Agarwal took centrestage to address the students, emphasising the importance of national pride and the responsibility of the youth in shaping the country's future. Dean of Student Affairs Nidhi Sinha motivated the audience, assuring them of their welfare and urging them to contribute positively to society.
The event was hosted by Ashvin Soin and Jahnvi Arora who are Student Council members. The cultural showcase began with a captivating performance by Advaita, highlighting the regional diversities of India through renditions of Vande Mataram and Ekla Chalo Re. The group's seamless transitions from Bengali to Punjabi compositions left the crowd in awe. The spirited rendition of
Jai Ho
raised the patriotic fervour.
A poignant act, shed light on the grim history of Indians subjected to manual labour during World Wars I and II under the British rule. Awiral Anandi Singh, core member of the Ansh Club, portraying Ram Mohammed Singh Azad, vividly depicted the struggles and sacrifices made by the unsung heroes. "I just shot to my protest," Azad defiantly proclaimed in defence of his nation, encapsulating the sentiment of resistance against oppression.
A special guest dance was performed by Mahi Bhatia whose relative works in the university's security team. This was followed by a heartfelt song rendition by five women guards. "Ham maja aata ki har saal mauka milta hai gaane ka aur bola jata hai tyaar hoke aao"(We get very excited every year when authorities give us a chance to sing and dress up)," said woman guard Smita Kumari.
The event reached its crescendo with Adamya Veer Jain, BTECH 2nd year student, reciting a stirring poem titled Aradhna, capturing the essence of patriotism. The mesmerising dance performance by Rivaaz exuded infectious enthusiasm, igniting the spirit of patriotism. Niharika Lal and Sanya Bhattacharjee's soulful renditions of special songs added a final touch of magic to the event.
The ceremony concluded with a heartwarming prize distribution to honour the winners and participants of the functions held over these past three days.
The
celebration
not only brought the Bennett University community together but also instilled a renewed sense of national pride and unity, serving as a reminder of India's journey towards independence and the shared responsibility of its citizens.