BU screens SRK-starrer Chak De India on Discord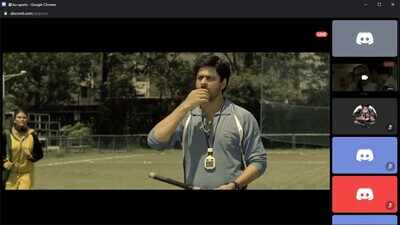 By Anushka Agrawal
Bennett University's
Cerebrum club
and the
sports department
came together to telecast the Shah Rukh Khan-starrer
Chak De India
movie on
Discord platform
for the students of the University on November 1, 2020.
Archit Mittal, the organizing member of the event, said that the screening was organized to encourage patriotism as well as motivation of
team spirit
especially among women through the award-winning film "Chak De India". He also added that the aim was to showcase a motivational film for everyone to enjoy on the digital platform.
The movie was watched by 15 viewers. Ritik Agarwal, co-organizer of the event, said that due to the lockdown, students had been stranded at their homes. "Outings and movies are restricted so the Cerebrum Club coordinated with the sports department to organize a screening of the film Chak De India," he said.
Chak De India is dedicated to nationalism, sports and team spirit
This movie was chosen to boost nationalism and team spirit. The other movies that were in the running to be screened were Bhaag Milkha Bhaag, Million Dollar Arm, Soorma, revealed the event organiser
Archit Mittal
.
Shah Rukh Khan as the national coach of Indian Women's Hockey team in the movie.
Viewers who watched this movie found it very refreshing and enjoyable. They felt motivated and learned how to work as a team and maintain team spirit.
One viewer, Mehal Srivastav, said, "I appreciate the event conducted by the sports committee as a movie night. I had seen this movie a long time ago and it was fun to see it live with many people on Discord. The message delivered through this movie is very motivational and encourages sports culture in women. I would like to attend more events like this."