BU Spic Macay hosts Dashanan Rachna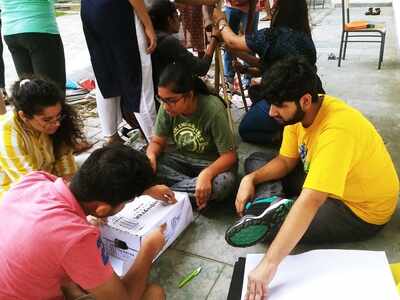 By Devyani Verma
Dashanan Rachna, or the Raavan-Making event, was organised by
Bennett University
's
Spic Macay
club on the eve 28th September to commemorate the beginning of the Navratri and celebrate the start of
Dussehra
week.
Spic Macay, the cultural club of the university, hosted the event to bring students together and unite them through a fun and bonding exercise of
Raavan
making. Meher Dhanjan, Secretary of BU's Spic Macay, shared how the activity was performed to create a mini-society within the university.
"Essentially a lot of people are away from family over here. What we wanted to create is that sort of a homely feeling where everyone comes together," Meher said, adding, "You know how in societies and colonies in India, the whole society comes together to make one Raavan? That is what we were trying to do."
The Raavan making largely involved
eco-friendly
materials, such as old newspapers and bamboo. "We plan on celebrating an eco-friendly Dussehra. The Raavan 'dehen' – or the burning of Raavan – would be carried out in an eco-friendly manner as well, as the traditional way would release toxic fumes in the air," said Sakshi Rastogi, core member of Spic Macay.
The club has raised social awareness through the event by making a conscious effort to be as eco-friendly as possible. "We have tried our best to not use products which will cause harm to our environment. Use of plastic has been avoided at all costs," Sakshi said.
The event saw a festive mood, with participants and the audience engaging into a light-hearted dance to the upbeat music. Songs like 'Dhol Baje' and 'Ghumar' saw mass participation by the club members as well, as the Raavan making continued.