BU students kick start first annual sports meet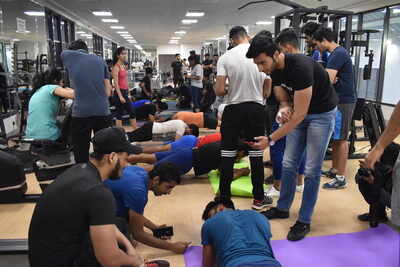 Bennett University marked the beginning of its first Annual Sports Meet, 4 Flags, with an enthusiastic first day on April 2, 2019. The three-day long event, organized by the Sports Committee of the university, started with the qualifying rounds of the Treasure Hunt and the Sports Quiz. A Fitness Challenge was also held to test the strength of students at Bennett University.

Fourteen teams of 5 members each participated in the Treasure Hunt Qualifying rounds. Two teams battled against each other as they also raced against time to complete a set of four tasks ranging from sprinting long distances to making baskets and goals. Seven of these fourteen teams qualified to the finals due to be held on April 6, 2019.

"It was a test of our will power, strength and team work. Even though very exhausting, we had a lot of fun participating in the treasure hunt," said Arnav Singh Chauhan, 2nd year B-Tech student who participated in the activity.

Preliminary rounds of the Sports Quiz were also held today, testing how much do the students at Bennett know about their favorite sports. Out of a total of thirteen teams, 4 qualified to the final round to be held on April 5, 2019.

"We have been planning to hold an event of such grand scale for some time now and we are very happy to have been able to finally execute it. We are looking forward to an interesting and adrenaline pumped three days," said Nandana Varshney, member of the Sports Committee at Bennett University.

The first day of the meet ended at a high and enthusiastic note leaving everyone in anticipation of the next two days and the plethora of events being organized at the first ever sports meet in the University.