BU student's song goes viral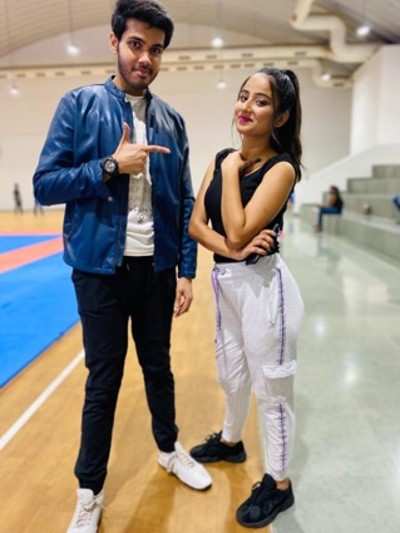 By Sharon Varghese
Pranshu Singhal
, a fourth-year student of BBA LLB at
Bennett University
, is on cloud nine. And why not. His song "Darmiyan" that was produced by
Times Music
has gone viral.
"Darmiyan", which was released on September 16 over the Times Music YouTube channel, clocked more than a million downloads in less than 48 hours.
The song was inspired by Pranshu's love for romantic Bollywood films and music.
He wrote the lyrics for "Darmiyaan" late last year and recorded the same at a music studio in Delhi. After which he contacted Ms. Manisha Shukla, the student welfare officer at Bennett University to help him take the song to a music label and was able to get in touch with Times Music to realize his dream.
"I felt immense pleasure to have seen my song being released by a popular mainstream label like Times Music. It was a great experience to see myself and the song as a final product on screen, it was better than I could've imagined," said Pranshu about his experience.
On his experience while shooting the video at the university in August, he said, "It was an amazing experience to see how a music video is produced and all the effort that goes into it." He also mentions that the music video was to be shot in April but was delayed by the Covid 19 situation and the university having to close in March.
While talking about his journey Pranshu mentioned, "I began learning the piano since I was in 1
st
grade and would participate in competitions, choir groups and bands. That's where my passion for music originated from."
He began writing poems and quotes in school which led him to writing songs when he joined college.
He feels that music nowadays lacks melody and meaning. This motivated him to pen down lyrics for "Darmiyaan".
Pranshu is inspired by the work of artists like Vishal-Shekhar and production houses like Yash Raj films. "I've been a Bollywood movie buff my entire life which is the reason behind my interest in romantic Hindi songs, which is why I like songs that are groovy and peppy," he says.
Pranshu's advice to any budding writer or artist is to write from their heart and translate their feelings into words. He feels that a song shouldn't be written for the sake of writing or be driven by any ulterior motive. He says, "Put your heart and soul into music and aim to provide a complete package to your audience."
While discussing his future plans in music, Pranshu says that he's working on a romantic party song, which he hopes to produce in the future.
(The report has been written by Sharon Varghese, a Second-Year student of BA (Journalism and Mass Communication) of Bennett University.)
Join exciting programmes offered by Bennett University; Admissions closing soon