Bennett unveils dynamic Sports Committee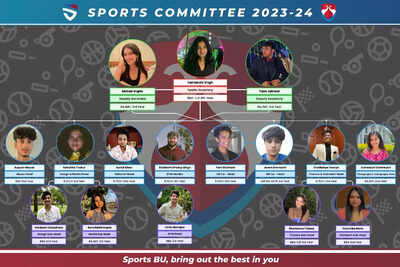 BU's Sports Committee Core 2023-2024. Poster designed by Rakshita Thakur
By Kamakshi Deshmukh

Bennett University has proudly introduced key members of its sports committee for the upcoming year, signaling an exciting period of athletic activities in the university. With a blend of fresh faces and experienced leaders, this committee is poised to elevate the university's sports culture to new heights.

Leading the committee is Kamakshi Singh who assumes the role of Secretary. Her responsibilities encompass overseeing the entire spectrum of activities, ranging from managing departments to coordinating with sports officers, while also serving as a bridge between the students and sports officials. Mehak Gupta and Yash Jaiswal from BAJMC will serve as Deputy Secretaries, playing pivotal roles in assisting Kamakshi Singh.

Further enriching the leadership team are Parv Shivhare and Areeb Sherwani, co-heads of the Organizing Board, ensuring seamless event execution. Chaitanya Kharya holds the position of Finance and Outreach Head, steering the financial aspect of sports initiatives. Vanshika Rana and Shambhavi Dubey are entrusted as the Outreach and Finance Sub-Heads, respectively. Rakshita Thakur heads Design and Media, injecting creativity into the committee's tasks. Vardaan Chaudhary and Samriddhi Gupta serve as Design and Media Sub-Heads, further enhancing the creative output. Kamakshi Deshmukh is responsible for Photography and Videography, capturing the essence of sporting events. Sohail Khan assumes the role of Editorial Head, ensuring effective documentation.

Notably, a Finance Department has been introduced for the first time, aimed at transparent fund allocation for sports initiatives. Jaiswal underscores the department's importance in ensuring the effective management of financial resources.

Arun Kumar, Assistant Director for Sports offers his words of encouragement: "Embrace this incredible opportunity to shape the future of sports at our Bennett University. Your dedication and passion will inspire athletes to achieve greatness and foster a sense of unity. Remember, every challenge you overcome will only make your success story more powerful. Stay focused, stay driven, and let your love for sports fuel your journey," he says.

Kamakshi Singh talked of an exciting year ahead with a blend of recreational events catering to non-sportspersons, friendly matches, gym events and intra-mural competitions. The much-anticipated "Sportikon" promises to be a spectacular culmination of the committee's efforts.

As the campus buzzes with anticipation, one thing is certain, Bennett University's new Sports Committee is gearing up for a transformative year that will not only make its mark within the university walls but will also resonate in the broader sports community. With a lineup that's driven by passion, this committee is set to redefine the university's sporting legacy.