Chase excellence, not success, Aamir tells BU students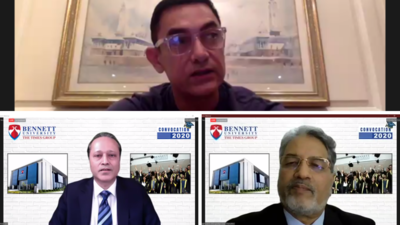 Screen grabs of Chief Guest Aamir Khan (Top), Bennett University Chancellor Vineet Jain (Bottom Left) and Vice Chancellor Raghunath Shevgaonkar (Bottom Right) at the e-convocation of Bennett University held on October 1.
By Harshit Mansukhani
"Development of the nation is not the construction of buildings, national development is about development of human beings," Padma Bhushan awardee and actor
Aamir Khan
said at the
Bennett University
's second convocation held on October 1, 2020.
The actor, who was the Chief Guest at the University's Virtual Convocation, advised students to chase excellence and not success. "If you chase excellence, success will come on its own."
He also wanted the students to do what they want to do in life. "My parents were not happy when I announced at the age of 16 that I want to get into films." His friends also thought that he was making a mistake.
But he went ahead and worked as an Assistant Director in two films. "That for me was the greatest education. It taught me the essence of film-making - something which I could not have learnt in the classroom," Khan said.
Khan wanted the students to take a year off, and travel across the country. "I have learnt the most by going deep into the country and I would advise students to plan a pan-India trip from Kashmir to Kanyakumari. You would learn more from this trip than from anything else," he said.
Khan emphasised that a person must love what he or she does and should do it perfectly. Recalling his early years, Khan said, "My first lead-role film Qayamat Se Qayamat Tak was an instant hit but seven or eight movies that came after it did not do well and the media labelled me a one time-wonder. It was then that I decided that I will accept only those roles which would make me happy."
The decision was not easy, he said. But his belief in himself paid off. After that he started delivering hits. He wanted the students to work on the craft of storytelling if they want to stir audience interest. "The success of a media student depends on how well he tells a story."
Life-changing milestone
Earlier, the Chancellor of the University,
Vineet Jain
, who presided over the Convocation, in his opening remarks, said, "Graduation is a life-changing milestone in one's life. It announces the true arrival of adulthood. It represents a profound rite of passage. But graduation doesn't come easy. It's the culmination of 15 years of hard work – not counting pre-school and kindergarten. It is something that you earn, not something that's handed to you on a platter, like an inheritance."
Talking about Covid-19, Jain said, "Every disruption, every upheaval in human history has led to new ways of thinking, and winning." Even Covid-19 will have a similar impact. "Let me predict that it will enhance the quality of education by combining the best of online with offline. It'll act as a force multiplier for faster, deeper and more meaningful learning," he stressed.
Embrace change, not be fearful of it
Congratulating the graduating students, Jain said, "I want every one of you to dig deep and find your inner core of strength and resilience, and turn what might appear as adversity, into opportunity. But for that, you must be willing to embrace change, not be fearful of it. You might fail every now and then, but that's often the price you pay for success."
The Vice-Chancellor of Bennett University,
Raghunath Shevgaonkar
, in his address said, "This year has been unusual for all of us and at Bennett University we faced the challenge squarely and we successfully completed the curriculum of the graduating batch well in time and declared the results as per schedule."
He further added, "As much as we wanted to hold this convocation of the founding batches for Engineering, and Journalism and Mass Communication with a big celebration, the pandemic coerced us to restrain ourselves to hold it in online mode."
At the Convocation, the University honoured
Raju Narisetti
, noted journalist and publisher of McKinsey, by conferring the Doctor of Philosophy degree (Honoris Causa) in Media Management for his outstanding achievements in media and publishing.
Narisetti in his acceptance speech said that the industries have to look at their core offerings in a creative way to sell their products. It is understandable that to know a product, the person must have a strong foundation and Narisetti said that quality education provides for such a foundation. He added, "A strong educational foundation can convert adversity into an opportunity."
Landmark Year
This was a landmark year for the University. It witnessed the passing out of the first undergraduate batches of engineering, management, and journalism students. It also saw the awarding of the first Ph.D. degree.
As many as 398 students were awarded degrees in person or in absentia during the Convocation. They belonged to the following programmes: PhD (2016-2020), Master of Business Administration (2018-2020), Master of Business Administration (BFSI) (2017-2019), Bachelor of Technology (2016-2020), Bachelor of Business Administration (2017-2020),BA (Journalism and Mass Communication) (2017-2020), Post-graduate Diploma in Business Journalism ( 2019-2020),Post-graduate Diploma in Digital Media English (2019-2020) and Post-graduate Diploma in Digital Media Hindi (2019-2020).
The evening ended with the award of Chancellor's and Vice-Chancellor's medals in different fields.
(The report has been written by Harshit Mansukhani, who was part of the 2017-2020 BAJMC batch of Bennett University. He was among the students who received their degree at Convocation 2020.)



Join exciting programmes offered by Bennett University; Admissions closing soon