Coding Ninja biz head's pointers for better CVs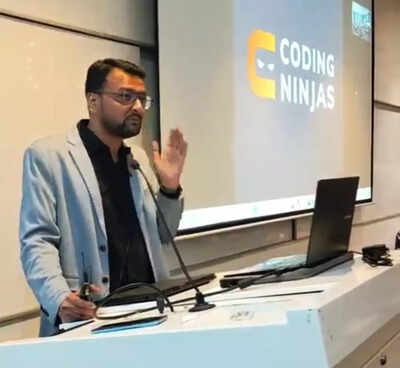 By Pranavi Ambati

Addressing the BTech CSE & BCA freshmen at Bennett University, Coding Ninjas Head of Business Mr. Abhishek Agrawal shed light on the perseverance that undergraduates need to land internships in today's fast-changing tech industry.

An IIM graduate with experience across industries in strategy, channel sales, community operations and analytics, Mr. Agrawal advised students to start ramping up their CVs from the minute they step into the world of professional higher education. "The world is becoming more competitive day by day, as more individuals realize their calling. These people have the same ambitions as you - be it wanting to pursue studies abroad, or landing a good placement. How do you break out from the clutter? By ensuring that your CVs are not merely a list of everything you've done - rather, make them insightful," he said, sharing valuable insights with the audience members.

Additionally, he testified to the fact that employers are looking at co-curricular and extra-curriculars now more than ever, since the demand is not merely for technical knowledge, but also for an individual that is capable of pulling through social and cultural interactions within the corporate world.

"As a student of computer science, you may assume that your public speaking skills are not relevant for landing a job. Don't roll with that assumption - communication is a priority across industries. We're looking at your C++ skills, but also if you have the potential to convince clients of our solutions. Here, your mention of public speaking is an asset," he elaborated on the same.

Students present in the audience took keen interest in his address, as was evident by the multiple hands that went up during the Q/A session post Mr. Agrawal's delivery. From how to quantify consistency in a CV, to how to make an unpaid internship more valuable - BU's freshers sought answers to a variety of questions and more.

"Your interest can be gauged by the questions I am having thrown at me. This is an excited batch, and I hope you remain just as vibrant throughout your college life. Cheers!" concluded Mr. Agrawal .