Coffee with DoSA: A warm welcome to the new 'Bennetians'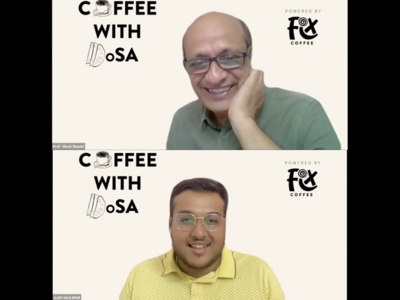 By MEDHA SINHA
At Bennett, a "DoSA" is not something you eat, but the Dean of Student Affairs. To kick start the new semester, Prof Vinod Shastri, launched a virtual coffee meet with the freshers.

On International Coffee Day, the dean of student affairs announced a monthly show called "Coffee with DoSA". Prof Shastri hosted the first episode along with Aaryan Kapur, the incoming president of student council. The show was powered by 'Fix Coffee', a start-up founded by Bennett Hatchery students.

Being a Bennetian
Prof. Shastri greeted the newcomers as "Bennetians" and began the session by recounting his experiences as a teacher who only worked with post-graduate and working professional students. He first believed it would be tough to educate college students who had just graduated from high school when he decided to attend Bennett University, but his attitude changed entirely after he interacted with young students.

Wings to fly
Prof. Shastri narrated a real story with the freshmen about the pigeons that had built a nest and laid eggs in his balcony, and after somedays when the eggs had hatched, the birds were not attempting to fly despite attempts by the parent pigeons. As a result, Prof. Shastri determined that he needed to do something to encourage them to try flying. He attempted to shoo them away with a broom, but they began to hop from one spot to another, spreading their wings, and eventually took to the air, flying even higher.

"I got exact same feeling that I get in my undergraduate class. Father and mother can do so much but beyond that there is role for a teacher, for a mentor".

Meeting offline soon
Then he initiated a conversation with Aaryan Kapur. Kapur talked to the freshmen about life at Bennett University. He also recounted several amusing experiences during his time at university campus. Following that, questions from the freshmen were taken. Most were eager to see the campus and wanted to know when it would reopen. The chat ended with the intention of meeting up offline in the coming months.