CSC schemes help turn ideas into businesses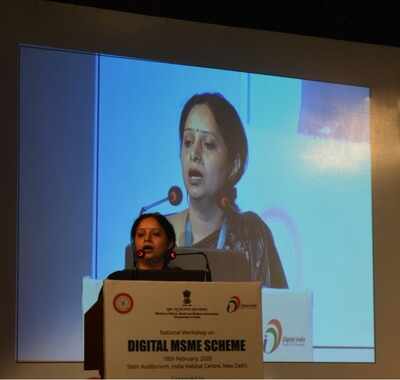 By Prapti Jain

NEW DELHI: Common Service Centre (CSC) e-Governance Services India, a project under the Ministry of Micro, small and medium enterprise (MSME), supports small entrepreneurs to develop their ideas into viable businesses by providing financial, research-based and technical support, ministry officials said at a national level workshop on Tuesday.

The ministry has launched an ideas challenge inviting students and professionals to submit ideas that can grow into businesses, Ms Mandeep Kaur, Joint development commissioner, MSME told village level entrepreneurs at the conference. Successful ideas will get funding up to Rs 15 lakhs. Ms Kaur elaborated on a host of other schemes that can help VLEs.

The cluster development program aims to enhance the productivity and capacity building of an MSME. The scheme provides financial assistance for the establishment of Common Facility Centres (CFCs) for testing, training, research and production to small enterprises.

"Every service provider and every seller is an MSME who is entitled to benefits from all the MSME schemes. But to do so, you have to first get registered for Udhyog Adhaar as an MSME," she added. Udyog Aadhaaris a 12-digit identification number for small enterprises.

Mr Rishikesh Patankar, CSC Chief Operating Officer, said, "Wherever there are challenges or good opportunities, these schemes help the larger institutions or small and medium enterprises to get effective utilization of the businesses."

On implementation of the schemes, he said, "Any scheme to be implemented by the government of India depends upon the available data by surveys of the national sample survey organization. These surveys give the economic background of the organizations." Based on the collected data, the government decides which scheme would be beneficial.