Dance Dare: Meet BU's four Creepy Tricksters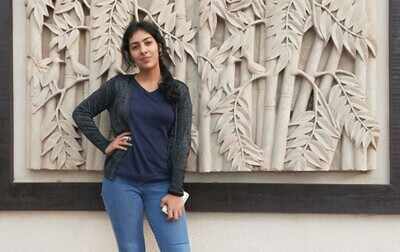 Anoushka was among the winners. (Photo: TOB)
By Kanishka Sharma
As students of
Bennett University
celebrated
Halloween
with an
innovative dance contest
online amid the Covid-19 pandemic, two duos comprising Anoushka Chowdhary, Maya Suri, Subhash Dande and Aditi, respectively, were declared the winners.
The contest was among the Halloween events held by Verve, the dance club of BU, even as the campus in Greater Noida remains closed for physical classes since March.
Chief among these activities was an
online challenge
whereby the participants chose to 'trick or
treat
' on Verve's Instagram account, from October 26 to 31.
Anoushka was among the winners. (Photo: TOB)
How it worked
In the challenge posted on Verve's Instagram Stories, those who picked 'trick' were paired with those who chose 'treat', thus making teams of two each.
Team members who chose to 'trick' had to give a dance dare to the participants who chose to 'treat'!
The video of this innovative dance performance had to be sent to the club for featuring on the Insta page.
The best two tricks given and completed were to be chosen for the title of 'Verve's Creepy Halloween Tricksters'.
Anoushka and Maya won for Anoushka's dance treat, while Subhash and Aditi won for their creative trick idea.
Subhash was 'tricked' by Aditi, and managed to win. (Photo: TOB)


Why the idea
Speaking about the event, club joint secretary Anirudh Sarda said, "Everybody was getting bored, stuck at home, so we wanted something new and interesting to happen this time as part of our event. Our team came up with idea to use 'trick or treat' in dance."
Maya, who was among the winners, is also secretary of the club. (Photo: TOB)

Maya, who is also secretary of Verve, added, "We had BU students pairing up across different courses. The event was not as successful as I wish it would have been, maybe because it was hard to explain. Nevertheless, it was fun. We are looking forward to more such events."