Day 2: Tech Hunt at Uphoria Fest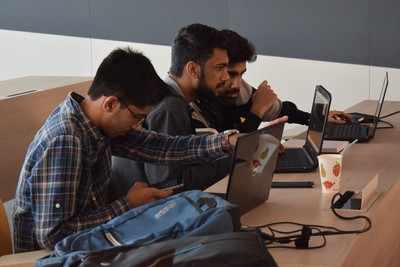 By Devyani Verma

The Uphoria Fest at Bennett University on its second day, catered to the young IT professionals with a thrilling competition of coding and hacking.

Also known as the Tech Hunt, the competition was organised by Engineering students of the university. "This Tech Hunt is about the people who are interested in hacking, coding and problem solving," said Het Dagli, the core member of CodeChef Chapter Bennett. The participants had to "Think like a Noob", as stated by the club's organizers.

"The objective is to finish it first," shared CodeChef's core member Devyanshu Shukla, stating that the participants looked forward to the thrill of solving problems while running around the campus, decoding clues and struggling to remain on the top of the competition.

Ansh Arora, a freshman at the university who was participating in the event said, "This is my 2nd time participating. I really enjoyed it the first time, however this time I'm stuck." The competition was tough yet the participants took on the challenge energetically, eyes set on their devices and mind running as fast as their feet.

The Tech Hunt was followed by a Gaming Workshop where the participants looked forward to making an interactive application with the aid of the Unity gaming engine, the 3rd year Engineering students guiding their freshmen into developing VR for the future.