Deconstruction of 'Deh Hi Desh': Women at War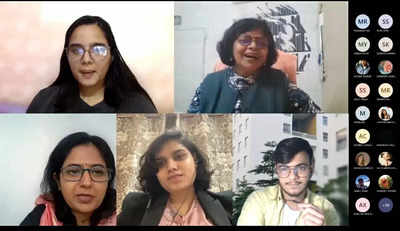 By Sai Adarsh Krishna
"Women were used as instruments of war," said Dr Garima Srivastava, Professor at Centre for Indian languages (Jawaharlal Nehru University), as she deconstructed the various themes of her book- 'Deh Hi Desh' to third-year students at Times School of Media (TSOM).

During her tenure as Visiting Professor at University of Zagreb in Croatia, she wrote a travelogue on Croatia titled 'Deh Hi Desh', which received overwhelming responses from readers and critiques, alike.


Exploitation of women and related European traditions

She affirmed that similar patterns of governance and social traditions were observed during the reign of Serbian President Slobodan Milosevic and German dictator Adolf Hitler. Soldiers at war were given freedom and adequate respect in the society, while women were burdened with the atrocities of war.

Women as young as 11 to 19 years old ladies were raped by soldiers at army settlements whilst, older women were given responsibility of food and sanitation at the settlements. The latter were forced to abort their children and conceive children of soldiers at these settlements.

"Female children were subjected to pornography and their tapes were recorded and sold in the market," she said.

Experiences of women and her findings

Dr Srivastava exclaimed that she found it difficult to write down and at times, translate the interviews of victims who suffered from sexual exploitation and physical abuse during periods of tension between Serbia, Bosnia and Herzegovina.

"Women in Arizona market suffered from multiple diseases as a consequence of sexual abuse, but couldn't leave the place because of family and the lack of income required to sustain a living elsewhere. Those refusing to indulge in prostitution were sent to detention camps."

Question of social inclusivity of women

"Society does not recognize the role played by a woman in a household, or after marriage," said Dr Srivastava, as she drew an analogy to raise the questions of social awareness and the inclusivity of women in decision-making platforms.

She stated that women often imagine their entire life in the household, simply because the society does not recognize the importance of women wanting to work. She further asserts that men also possess the ability to perform similar work but, they reduce it to a feminine necessity.

A feminist should not only study gender identities but, also study the understanding of social awareness in the present society.