Empowering academic excellence: COE's address to incoming Bennett University students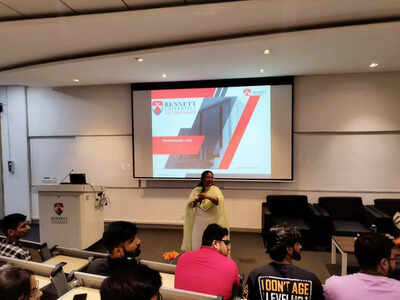 By Pakhi Dave

In a compelling address to the incoming students of Bennett University, Dr. Sangeeta Shukla, the Controller of Examination, shed light on the institution's evaluation pattern. With a palpable sense of anticipation tingling in the air, Dr. Shukla's speech evoked both excitement and nervousness, symbolized by hesitant hands.

Underlining the significance of a strong CGPA, Dr. Shukla emphasized that academic institutions hold it as a key filter. She elucidated the multifaceted approach to evaluation, where each course offers ample opportunities for students to showcase their performance. This landscape includes a plethora of examinations, ranging from traditional formats to open-book assessments and laptop-based exams, all contributing to a holistic understanding of the students' capabilities.

Dr. Shukla encouraged the students to immerse themselves in the academic journey by meticulously studying university ordinances, reading course outlines, and comprehending evaluation patterns. Planning and preparation, she emphasized, are pivotal to success.

She deftly explained the mechanisms of makeup and end-term assessments, where applying for makeup is an option in cases of unforeseen circumstances. The spotlight was also on supplementary exams, allowing students to salvage a grade within certain parameters.

In a powerful discourse, Dr. Shukla championed the principle of relative grading over absolute grading, advocating for a fairer evaluation system. She navigated through the importance of attendance rules and the orchestration of exams, even during the summer term.

The integration of technology was highlighted with CollPoll, a tool to track attendance and results. Dr. Shukla also pointed students to the academic calendar, published on the university's website, serving as a reliable guide throughout their academic journey.

In a journey that holds both challenges and rewards, Dr. Sangeeta Shukla, as the Controller of Examination, set the tone for a comprehensive and enriching educational experience, inspiring students to embrace opportunities and excel in their pursuits.