Expedite '19, a learning curve for shuttlers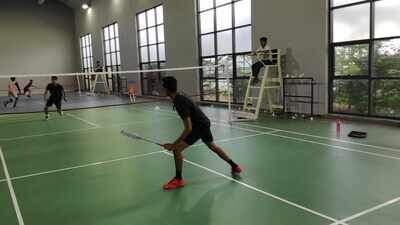 The Expedite '19 inter-college sports fest came to an end on Sunday, with the final matches being played that day. The
shuttlers
were tested well in the t
hree
days, but the boys from Guru Nanak Dev Khalsa
(GNKU)
C
ollege and the girls from Hansraj
C
ollege took it away with their superior play.
Competition, environment helped
us
win
Hemant
Kumar
from GNKU College said, "I'll have to give credit to players from Bennett, Hansraj and Jaypee players. They gave us some severe competition. This personally enabled me to up my game."
The badminton boys' semi-finals saw GNKU and Jaypee putting their best game forward and win it for their teams. In the finals, the first set went to Jaypee but the GNKU boys hit back in the following
three
sets and took it away.
"The sporting environment is extremely positive here,"
GNKU's
Sumit
Kumar
said. "There was no lack of support for all participating colleges. We came her
e
to win, and after some very difficult matches, managed to
do
it.
"
Shiv Nadar
University
cliched the third position.
Friendships over
victories
The girls from Hansraj College won the finals in the well fought match against Ashoka College.
Anamika Kashyap from
Hansraj College said, "We won the competition and we are obviously happy about
that,
but we
met some really talented players here and would love a chance to play with them again."
The Bennett University girls took the third position in Badminton girls.
Just a learning curve for us
The Bennett University
shuttlers
looked at the
results
with a positive light.
Sambhav
Bhandari, the captain of Badminton boys team said, "We almost reached the finals.
Our semi-final match against Jaypee went till the 5
th
set. I'm very happy with our performance. We need to take this as a lesson and just try harder the next time."
Sushmitha
Ramkumar, the captain for badminton girls said, "We got the third place, and that's okay. We tried our best. We'll see w
h
ere we faltered and promise to come back stronger the next time."
Organizing was a fun herculean task
Nandana
Varshney from the organizing committee said, "We had to manage
five
other colleges
and it was
obviously a huge
assignment,
but the whole organizing committee
functioned like a team and thus any managerial obstacle was easy to overcome."
Saragya
Moondra
, another member of the committee said, "We knew it was going to be difficult, but we took it head on. We worked hard to make sure everything went smoothly and by the looks of it we succeeded.