Student give positive response to TSOM changes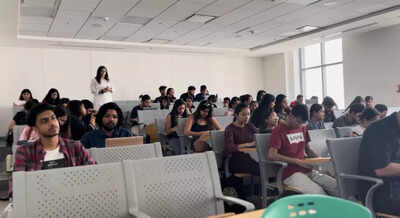 By Rebecca Sarah Mark


Returning students of the Times School of Media (
TSOM
) walked into their new semester with a lot of changes. New Dean Sanjeev Ratna Singh has brought some ground-breaking changes in curriculum with an aim to taking the school to greater heights. Some changes that were implemented would include the appointment of a placement committee, mandatory 75 per cent attendance and appointment of class representatives.
The students have mixed views about the changes. "The introduction of the placement committee provides an opportunity for students to gain practical experience in organizational and leadership roles", Nandika Mishra, a third-year
BAJMC
student. The committee signifies the school's commitment to enhancing career prospects. Adhering to defined rules for committee membership ensures transparency and fairness, promoting a merit-based environment.
"This is an opportunity for students to adapt to new perspectives and teaching styles and a broadening of their horizons," Mishra added. While the loss of the old order is felt, it's important to recognize that change is inherent in any academic environment. Students can embrace the chance to connect with new courses and fresh teaching insights.
Talking about the changed curriculum, second-year BAJMC student said on condition of anonymity: "Removal of news analysis is something I wish had not happened. It was one subject that would over the period of time help us grow as a journalist. We need more clarity on some of the new courses that have been introduced."
The Film School, a part of the TSOM fraternity, too had varying viewpoints. "It would have been great if we had courses like production design, art design, talent management and more of sound centric courses," Vidisha Kaushal, a third-year
BAFTW
student, said.
Talking about some classes which are common with BAJMC, she said. "We are here to study different form of media. The working of the Entertainment industry is different from Journalism. Some of our topics do intersect but the manner in which we will apply them in real life is completely different. There is a reason BAFTW is a different course from BAJMC and therefore a majority of our subjects are related to films, TV and web series," she added.
An important and necessary change that came forth is the mandatory 75 per cent attendance. Implementing this rule acknowledges the importance of active participation in the learning process. "For me , sometimes I had to go out for shoots, and not all the time would I get an official leave from the university. Now, since this attendance rule is being seriously implemented, it will always be there in the back of my mind, that I cannot lose any of my classes, which if I do, might result in me getting debarred," Kaushal said. While it may seem restrictive, this policy aims at ensuring students are engaged and consistently exposed to learning mores.
All said, the changes collectively reflect the school's effort to enrich the educational experience, prepare students for the professional world and foster adaptability in the face of change. Embracing these adjustments can lead to a more well-rounded and resilient student community.