Fresh faces, new vigour: VC welcomes freshers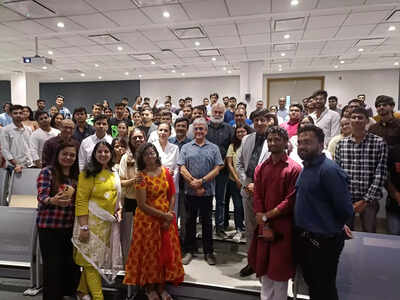 Vice Chancellor and guests with the freshers (Photo Courtesy: Rishi Bhushan)
By Rishi Bhushan

The induction of over 3000 students this year is a testament to the belief that the students and their families have over Bennett University said Dr Prabhu Aggarwal, vice chancellor, Bennett University in his speech addressing the incoming batch of year 2023-24.

In the first offline induction ceremony since the COVID era, Dr Aggarwal addressed the freshers about the ethos at the university and a start of an eventful journey to pave the path for a successful future. "Bennett has strived to provide the top-of-the-line resources necessary for building a strong foundation," said the VC. Bennett has a cohort of over 350 professors, armed with industry experience, committed to providing students with practical knowledge.

Dr Prabhu Aggarwal also talked about the state-of-the-art technology that the university is equipped with. The university has an Industry Advisory Committee that ensures that the curriculum remains up to date so that the students are industry-ready and can seamlessly assimilate into their careers. Bennett University is the first private university to have a supercomputer which was installed in 2017.

Dr Aggarwal stressed the importance of research. "At Bennett, we want students to not just listen but be the innovators and use the knowledge that they are bestowed with," said the VC. Bennett has an exclusive undergraduate research society, the Bennett Undergraduate Research Society (BURS). BURS has over 300 active members and organized India's only undergraduate research expo, 'ResCon'.

"Bennett is not about burdening you with assignments. Here we promote the students' innate talent and help it develop it," said the VC. Bennett has more than 40 student-led clubs that organize over 2000 events. VC ended his speech with 'Work hard, play harder'.