GenZ: Verifying leads & saving lives in Covid times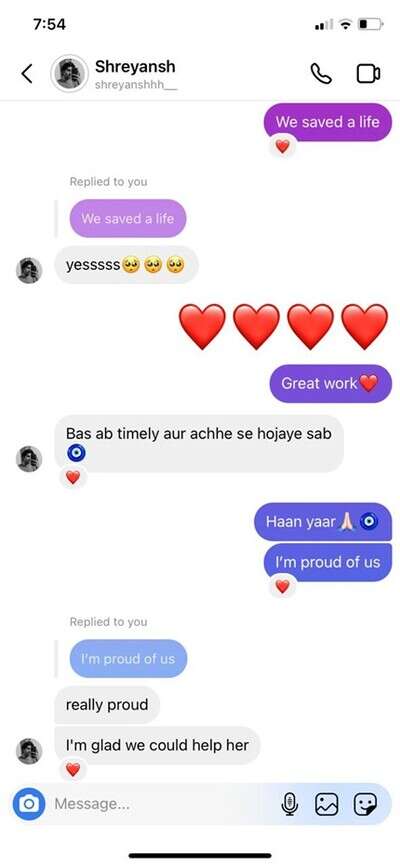 Conversation between two students who searched for help
By Falguni Garg
At a time when India is battling the brutal
second wave
of Covid-19, Gen Z, a generation always criticised for its overwhelming and endless use of social media, is helping save precious
lives
by collecting and verifying availability of
resources
needed to fight the disease.
Many people have lost their loved ones to the rapid spread of the virus while many others are on the verge of losing the battle. Most of us wake up feeling agitated, wondering what if we, or our family are next in line.
Today, there are over 3.86 lakh new Covid-19 cases and over 3,000 deaths for the third consecutive day, as per Union health ministry data.
https://timesofindia.indiatimes.com/india/coronavirus-lockdown-in-india-covid-19-vaccine-cases-cowin-registration-live-updates-29-april-2021/liveblog/82301483.cms
There is a persistent feeling of helplessness all around us, people have been seen begging for beds and oxygen with the health infrastructure across the country bursting at the seams. Many frontline workers, especially the doctors, have reached their saturation point as they cannot save lives if the necessary resources are not provided to them.
But, Gen Z, strangers to each other, from different parts of the nation have been communicating online, mainly through Twitter, by collecting leads to the availability of some resources, verifying them and providing them to the ones in need. Many, with a lot of online followers, have amplified Covid-related requests for beds, oxygen, and medicines.
The students at
Bennett University
also came together to fight this battle. Anshul Kaul, a second year BBA student, took an initiative with his team to create an online group where help could be provided to those looking for it.
"The idea for a
Covid
helpline came to me after my friends and my dad tested positive. Till the time my own succumbed to the disease, those getting affected by the disease were just numbers," shared Anshul. This initiative came in collaboration with Anmol Arora and many others who were eager to help. When asked how he felt while arranging and verifying leads, he said, "It is a mixed feeling. As students we are limited, both in our reach and power, there are times when we feel helpless but the happiness of saving even one life is indescribable."
A student, whose 62-year-old aunt was critical and in need of a
plasma donor
, reached out for help. Not just students at Bennett, but Gen Z came together online in search of a donor. It was a beautiful feeling, something positive in these tough times, to see strangers working together to help a stranger.
After two extremely long and tiring days, a donor was found online, ready to donate.
"I felt good that I could help someone because that is what humanity is, helping others when they are in need," shared Shreyansh, a B Tech student who religiously verifies and spreads leads and helped in tracking down a donor.
"Although there is also a feeling of helplessness when the leads and resources get exhausted and then it starts taking a toll on your mental health," he added. When asked how he deals with it, he said, "these are cruel times, living with your family at this time is a blessing. Everyone is suffering directly or indirectly; I try to distract myself by spending time with my loved ones or talking to friends online."
Another second year B Tech student, Dhruv Khashu, who has been helping students from the university and strangers online, said, "There is no better feeling than helping someone out. I just pray these times pass, because right now there is too much sorrow."
When the officials failed, and people lost hope, it is indeed ironic how the generation that was doubted the most, came together to make a positive change.