Marketing guru Hola explains precision of virality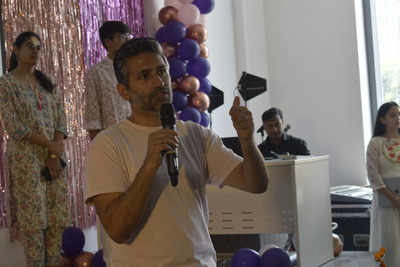 Mayur Hola conducts a session on advertising for freshers Photo by Soha Singh Jadeja
By Aryamaan Jit Singh Bawa

"A legacy brand like Air India has the pressure of delivering perfection to the market. With its recent rebrand, I feel they missed the mark as I feel if a brand should rebrand, it should be for a damn good reason," the Chief Marketing Officer at Culinary Brands, Mayur Hola, said when asked about his opinion on the recent Air India rebranding.

Talking at a session of Deeksharambh 2023 of the Times School of Media's orientation programme for the fresher batch, held an engaging session on brand positioning and brand identity amongst other major factors in today's advertising scene.

Hola is a prominent figure in India's Advertising and Marketing industry and has more than 20 years of experience working under companies like Ogilvy, Oyo and McCann to name a few, before reaching to be the CMO of Culinary Brands where he is working at present.

Hola discussed the importance of brands adapting to the ever-changing consumer as they face the constant consumption and bombardment of notifications, emails and ads, "You don't just launch a product at the back of a social media post, a brand can only create the initial momentum, but the rest of the job is on the consumer to complete," he said to help the freshers perceive the reality of the industry.

He laid emphasis on the importance of having versatile and informal advertising that help the consumer relate to and spread the brand's message throughout different social mediums, "Brands should talk more like human beings and not be the background wallpapers of social media," he asserted.

When talking about a brand's relationship with current events and how it must remain relevant in the age of reels and constant clicks, Hola had his two cents on the matter, "The most important question for an advertiser to ask themselves is how an event is linked to your brands purpose, and if it isn't, you don't necessarily need to engage with it,"

Following his lecture, a short Q and A session took place where students asked him insightful questions about brand USP, brand management and competitions in the market," ending a good session with insightful answers involving women safety, online trolling amongst other modern social issues.

(The writer is a Semester III student of BA (Journalism and Mass Communication) programme.